Analytics:
Real-World Evidence
Navigating through the complexities of RWE analysis
Life sciences companies strive to make real-world evidence (RWE) a routine part of their decision-making process, but face challenges optimizing their use of real-world data (RWD).
Trinity EvidenceFirst™
Trinity's EvidenceFirst offerings deliver meaningful RWE solutions by providing an experienced partner to work alongside life sciences leaders, with the context to flexibly implement built-for-purpose insights – and to draw on the appropriate data assets, from each company's existing array of data resources to Trinity's unique in-house data portfolio.
The EvidenceFirst Suite of Offerings
EvidenceFirst powers and integrates with Trinity's full portfolio of solutions and services across the range of commercialization business needs.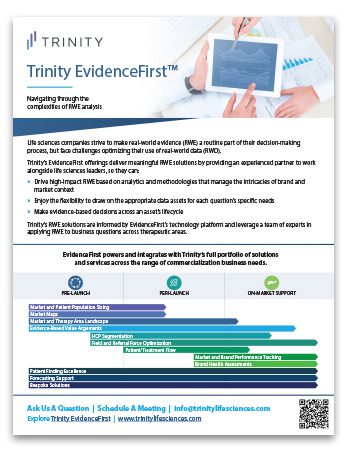 EvidenceFirst Brochure
Advanced Analytics: Tailoring Analytics to Our Clients' Needs

EvidenceFirst offerings can incorporate advanced analytics—including artificial intelligence/machine learning (AI/ML)—to align with each client's unique business goals and data availability.

Trinity's specialized skillsets, proven methodologies and industry expertise delivers a depth and breadth of analytics to support nuanced studies, including:

Patient Finding Excellence—Target the physicians seeing your target patients for conditions that are underdiagnosed, overdiagnosed, or challenging to identify
Predicting Disease—Educate physicians to enable earlier diagnosis and intervention using risk factors and red flags
Patient/Treatment Flow—Empower increased adherence by predicting premature treatment discontinuation and by proactively intervening

How are clients leveraging EvidenceFirst?

New Product Planning and Business Development: Provide insights into the market size and quantify key patterns within the patient population to identify who the patients are, who treats them, and how they are treated
Market Research and Brand Teams: Provide the understanding of the patient flow and quantify key patterns within the patient population to identify who the patients are, who treats them, and how they are being treated
Forecasting: Provide robust data to support model assumptions (e.g., market size, treatment rates, market share, days on therapy, etc.)
HEOR: Provide epidemiology and health care research utilization (HCRU) insights that support evidence-generation plans
Latest Real-World Evidence Intelligence
Meet Our Real-World Evidence Experts
If you have any questions, we're here to answer them.
We look forward to helping identify solutions for you.