Products
TrinityEDGE™ Foundations
Seamlessly scale and govern your analytics ecosystems
TrinityEDGE Foundations are deployable tools for data ingestion, data preparation, cataloging, data science modeling and governance.
Trinity offers a unified suite of composable, cloud-native data management solutions to fit the needs of biopharma companies of all sizes and stages of their commercial analytics journey. TrinityEDGE Foundations solutions help organizations to build robust data foundations and easily enable key data management functions using intuitive self-service tools.
Trinity's solutions can be deployed individually or integrated to meet customers immediate goals/needs. Based on the maturity of the analytics organization, the appropriate offering can be leveraged to craft a unique solution that will scale to meet their evolving needs. All of Trinity's solutions work with most major platforms that life science organizations utilize for their commercial operations and come with pre-built analytic libraries that are compatible with over 350 life sciences sources to offer users plug and play functionality from day one.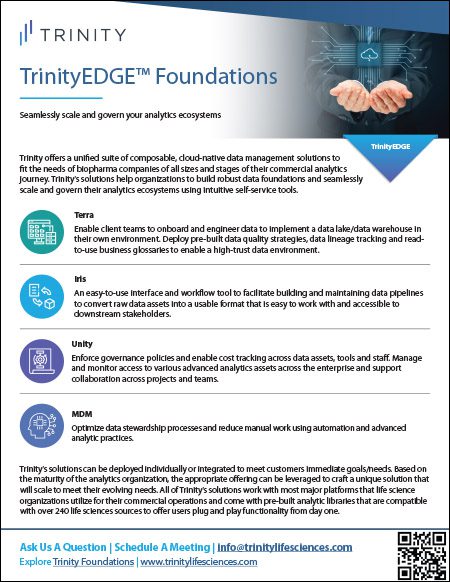 TrinityEDGE Foundations Brochure
Latest TrinityEDGE™ Foundations Intelligence
Meet Our TrinityEDGE™ Foundations Experts
If you have any questions, we're here to answer them.
We look forward to helping identify solutions for you.