Gender Equity in Commercial Executive Roles Recording
Available On Demand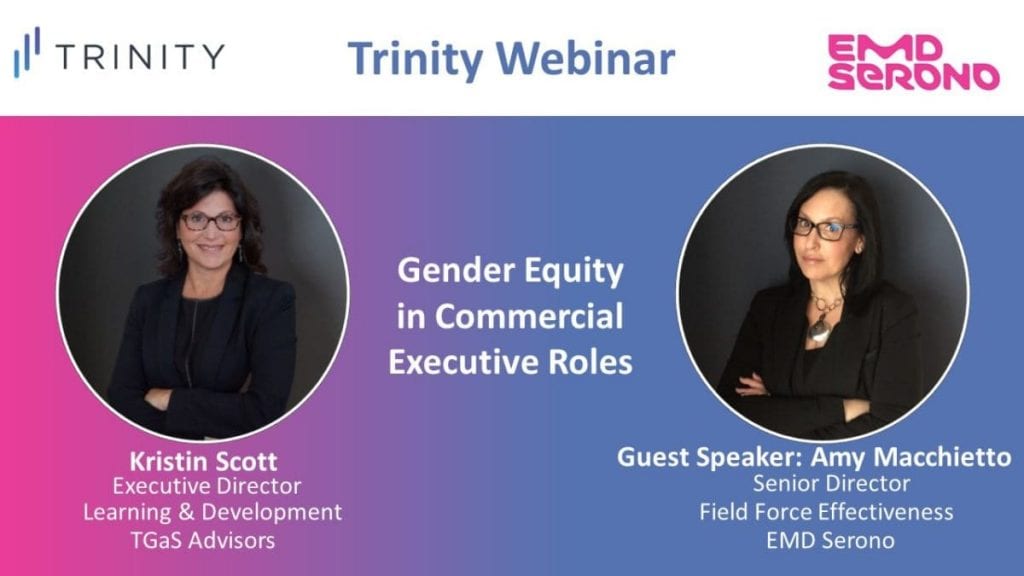 ---
TGaS Advisors, a division of Trinity Life Sciences, partnered with EMD Serono to develop Company and Pipeline Development Scorecards from a benchmark study of life sciences compared to ex-industry best practice research, including surveys/interviews with 23 unique life science companies in the TGaS Client Network. Join us to hear findings from the study.
---
Key Webinar Topics
Why and how does gender diversity in executive commercial roles improve company productivity and performance?
What capabilities do they possess to enable women to lead and improve company performance?
What specific actions should companies take to build the executive pipeline for women?
What specific competencies and skills do women in commercial VP/SVP roles possess (both in/ex industry)?
---
Please complete the form to watch our Trinity Webinar: Gender Equity in Commercial Executive Roles.
By submitting this form, creating an account, and/or using our website (or using our Services) you agree to our Privacy Policy. Information provided by you is stored in our database and may be used for sending you additional information about Trinity (including Trinity's partners and affiliates) and our products and services. Such information may be transferred for this purpose to Trinity and affiliates in other countries. If you would like to opt out in the future, please email _compliance@trinitylifesciences.com.
Related Intelligence