Data Management Advisory Brief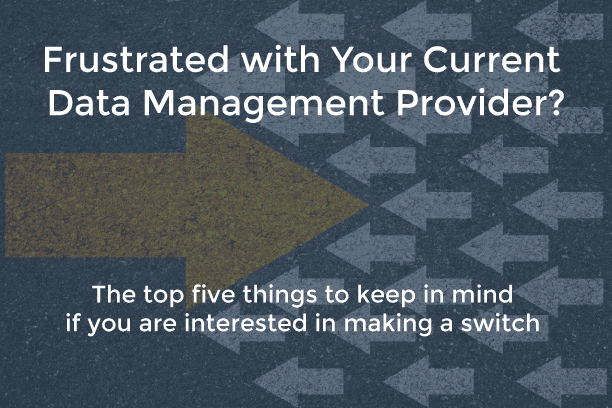 Trinity has heard numerous organizations express frustration with their data management provider. Common challenges include quality issues, timeliness and lack of flexibility. Switching to another provider isn't as hard as you think. In this advisory brief, we outline the top five things to keep in mind if you are considering a switch.
Please complete the form to download a copy of our Advisory Brief: Frustrated with Your Current Data Management Provider?
By submitting this form, creating an account, and/or using our website (or using our Services) you agree to our Privacy Policy. Information provided by you is stored in our database and may be used for sending you additional information about Trinity (including Trinity's partners and affiliates) and our products and services. Such information may be transferred for this purpose to Trinity and affiliates in other countries. If you would like to opt out in the future, please email _compliance@trinitylifesciences.com.
Sign up for the latest intelligence
By signing up, you are agreeing to our Privacy Policy.
By submitting this form, creating an account, and/or using our website (or using our Services) you agree to our Privacy Policy. Information provided by you is stored in our database and may be used for sending you additional information about Trinity (including Trinity's partners and affiliates) and our products and services. Such information may be transferred for this purpose to Trinity and affiliates in other countries. If you would like to opt out in the future, please email _compliance@trinitylifesciences.com.