Exploring the Impact of COVID-Driven Trends on the US Healthcare Landscape
Home

/

Intelligence

/

Blog

/

Exploring the Impact of COVID-Driven Trends on the US Healthcare Landscape
September 01, 2021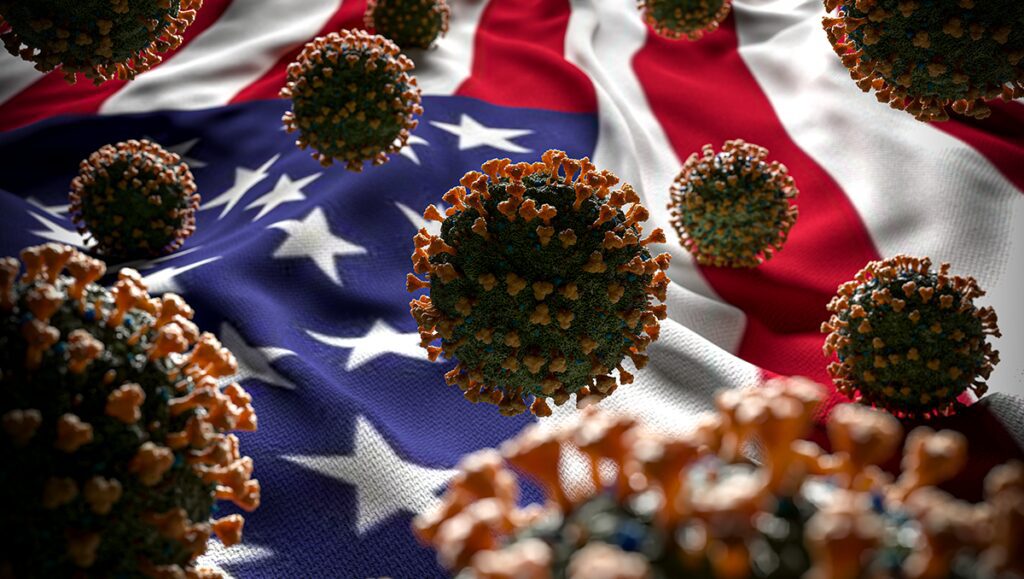 Executive Summary
The COVID-19 pandemic has called into question many elements of the US healthcare system across key stakeholders, resulting in changes across patients, providers, payers, researchers, and manufacturers
The pandemic has required many healthcare providers and patients to provide telemedicine options, which for many specialties has proved to be an effective way to dispense and receive care
For payers at the national level, CMS has implemented reimbursable telehealth codes for all medical services that may be provided remotely, while at the commercial level, state policy makers have pushed for legislation to ensure telemedicine accessibility for commercially insured patients
In terms of impact among scientists and pharmaceutical research approaches, the role of earlier research efforts from SARS and MERS in vaccine development for SARS-CoV-2 may drive a more preventative and forward-facing approach to vaccine development in the future
For manufacturers, shortages in essential medicines stemming from the COVID-19 pandemic have provoked recent efforts to transition drug manufacturing from overseas to domestic production, to ensure long-term supply chain security
---
Trinity's Take: A review of changes since March 2020 to patients / providers, payers, clinical research, and pharmaceutical distribution within the US reveals that there is increased use and coverage of telemedicine, interest in more targeted clinical research, and increased effort in domestic manufacturing capabilities, highlighting the crystalizing impact of the COVID-19 pandemic on the US healthcare landscape.
---
The Impact of the COVID-19 Pandemic in the US
The COVID-19 pandemic has wrought lasting impact on the lives of individuals, communities, businesses, and nations around the world. The virus's spread around the globe reached the United States in full force in March of 2020; its rapid onset and prevalence resulting in mass upheaval to the US healthcare system. A year and a half from its beginning, the extent of impact so far seen across four key stakeholder groups – patients and providers, payers, scientists, and manufacturers – suggests that this pandemic may drive lasting changes in the way medicine is delivered, what services are covered by insurances, how scientists target future clinical trials, and where manufacturers focus development.
The Impact of COVID-19 on Patients and Providers
The coronavirus pandemic and its associated lockdowns have greatly accelerated the adoption of telemedicine in the United States (telemedicine being the use of telecommunications technology to treat and diagnose patients remotely). Both medical professionals and patients have become more receptive to telemedicine to reduce the risk of in-person disease transmission, with data collected from January to June 2020 showing that virtual visits have increased twenty-three fold, accounting for 30.1% of all visits, compared to pre-pandemic data.
While growth has not been consistent across all disease areas, there has been a general growth in telemedicine in most specialties. The largest shift occurred in behavioral health, for which 56% of all 2020 visits were virtual. Telemedicine has also grown substantially in endocrinology, neurology, and rheumatology, where it accounts for 17-25% of all visits. The growth in telemedicine has also been more pronounced in younger and urban patient populations. 39% of patient visits during the pandemic were virtual for patients aged 20-39, while only 24% were for patients over 65. For patients living in urban areas, 30.7% of all visits were virtual, compared to 25.9% for patients living in rural areas.
Perhaps the most important consequence of the rise in telemedicine during the pandemic is that it has convinced healthcare providers and patients that telemedicine can be a reliable way to dispense and receive care. Moreover, the transition to telemedicine during the pandemic enhanced medical professional training and patient exposure to this technology. The continued growth of telemedicine would depend on the industry's ability to expand access to patients who are less familiar or lack access to internet technologies. We expect the latest bipartisan infrastructure bill, which contains USD 65 billion in government investment to finance broadband expansion, to boost patients' access to telemedicine.
The Impact of COVID-19 on National and Regional Telehealth Coverage
Alongside the expansion of telemedicine on the patient and provider side, payers have felt pressure to adjust their reimbursement policies to accommodate this shift. The Center for Medicare and Medicaid Services (CMS) took the lead in implementing telemedicine policies necessitated by the pandemic. Traditionally, CMS has covered certain telehealth services, but with the limitation that patients live in rural areas designated "Health Professional Shortage Areas," requiring patients to travel to special telemedicine healthcare facilities. This changed in March of 2020, when CMS put out reimbursable telehealth codes for a vast array of services to be accessed from patient's homes.
State legislators have been compelling commercial payers to take similar steps. Before the pandemic, 35 states required private insurers to cover telemedicine in some form, though not necessarily limiting cost-sharing or requiring parity. Since the pandemic, 22 states have created new or updated policies to facilitate better access to telemedicine. Notable state-wide commercial policy updates include:
MS, WV, UT, and VT passing their first telemedicine policies
18 states expanding their existing telemedicine coverage to encompass audio only services
OR, WV, and NH matching 22 other states in requiring insurers to have parity out-of-pocket (OOP) telemedicine costs for patients
NJ, NY, and IL prohibiting patient OOP costs entirely
10 new states requiring insurers to have parity in telemedicine provider reimbursement
No matter the question whether such reimbursement practices will be maintained post-pandemic, their extensiveness and speed to implementation suggest a meaningful change as a result of COVID-19.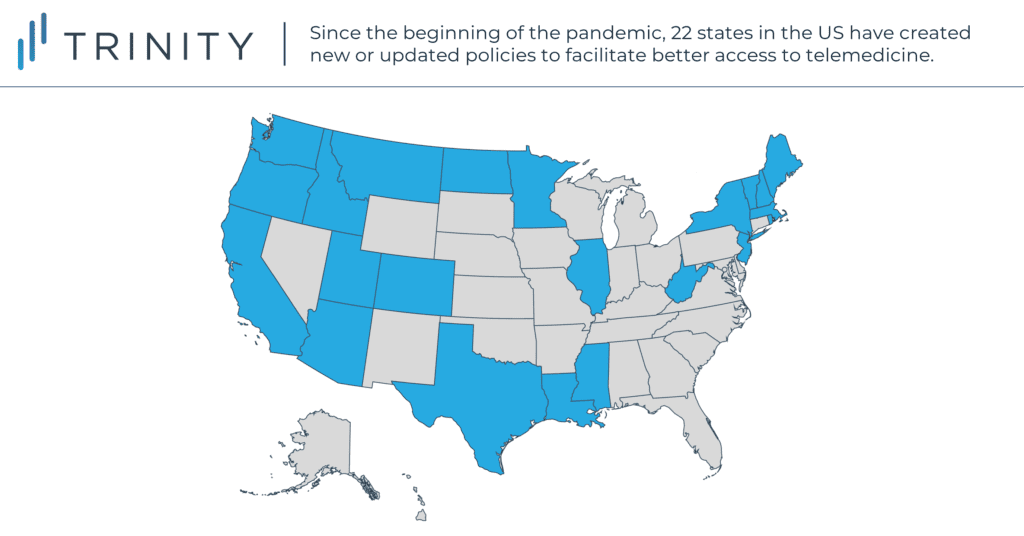 The Impact of COVID-19 on Scientific Research
The pandemic has undoubtedly placed huge pressure on scientists and researchers, but the healthcare industry has shown resilience through a shift towards more collaborative efforts and effective prioritization. Normally, vaccine development can take up to 10-15 years, due to timing required for patient recruitment, delayed approval between developmental stages, and cost conservation, among other elements. However, researchers were able to greatly accelerate COVID-19 vaccine development while still following typical FDA protocols due to several factors. Lessons learned earlier in the twenty first century from prior research / vaccination endeavors for SARS and MERS (both closely related to SARS-CoV-2) granted COVID vaccine developers a crucial advantage. Using SARS-CoV-2's genetic code, sequenced by Chinese scientists just 10 days after the first cases of COVID-19, mRNA vaccines – like Pfizer/BioNTech and Moderna – could be developed at unprecedented speeds; Moderna's vaccine entered Phase I clinical trials just 66 days after the release of the genome sequence.
---
However, the global response to the pandemic also exposed broader flaws in the way medical research is funded, tending to be market-driven and reactive rather than proactive. Though vaccine development for SARS and MERS began soon after the diseases were discovered, none of the SARS vaccines ever made it past the first stages of development and testing, while only one MERS vaccine successfully completed a phase I clinical trial in 2019. Though the occurrence of SARS and MERS and corresponding research played a meaningful role in jump starting the development of the COVID-19 vaccine, the pursuit of such efforts on a virus-type level and beyond relevance to their specific 2003 and 2012 outbreaks may have possibly forestalled 2020 and 2021 casualties. While hindsight remains our best vision enhancer, the relevance of previous pandemic learnings to that of vaccination development for this pandemic may suggest a more prevalent approach by similar virus types in the future.
Incentivizing US Domestic Drug Manufacturing in Response to the COVID-19 Pandemic
The COVID-19 pandemic has exposed various vulnerabilities in the US pharmaceutical supply chain infrastructure due to its substantial dependence on overseas drug manufacturing. As the initial waves of COVID-19 outbreaks began to ripple globally in early 2020, sudden closures of manufacturing plants and heavy imposition of export control measures occurred in major drug supplying nations such as India and China. In the US, this led to shortages in essential drugs, medical devices such as respirators, and protective personal equipment (PPE). This posed a significant dilemma for the health system as demand for these products sharply increased due to rampant COVID-19 cases. Consequently, the pandemic has resulted in some re-evaluation of the global drug supply chain, specifically for US manufacturers considering further domestic development opportunity.
Along these lines, the Association for Accessible Medicines encouraged grants, tax breaks and guaranteed price and volume contracts to incentivize domestic production in May 2020. More recently, the Biden administration responsively devised a two-component strategy to bolster domestic manufacturing capabilities. This involves the selection of 50 – 100 essential drugs as the focus of the onshoring effort and to additionally invest USD 60 million for the development of novel technologies that increase the domestic capacity for active pharmaceutical ingredient (API) production.
However, as pharmaceutical companies are estimated to save 30 – 40% of costs through offshoring, owing to lesser labor costs and environmental regulations, as well as possible proximity to major sources of API raw materials, it is possible that domesticating such production could increase costs and have downstream drug price implications. That said, given recent policy advancements and the fresh memory of supply chain failures, we may see manufacturers pursue more diversified development approaches to ensure long-term supply chain security in the post-pandemic world.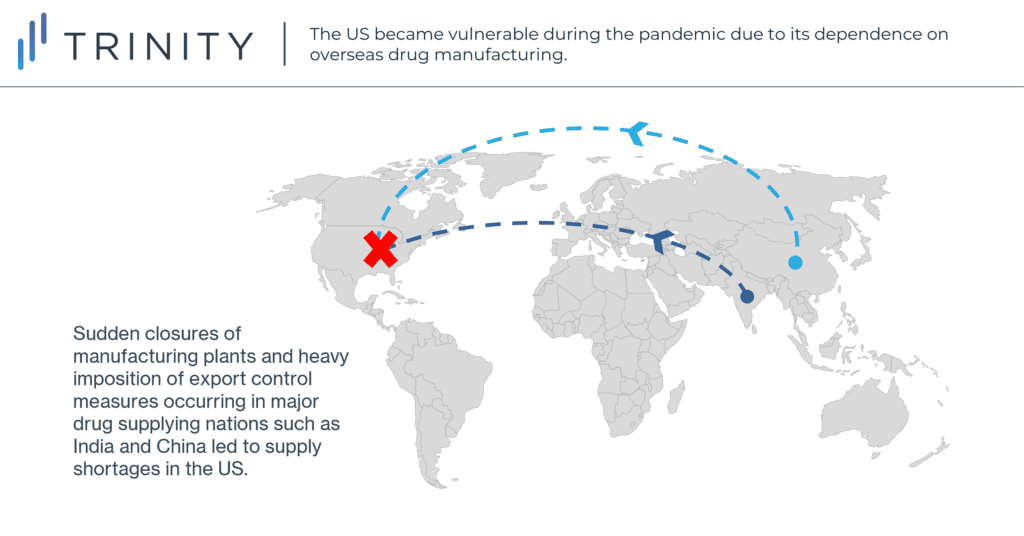 Conclusion
An exploration of the changes occurring for providers and patients, payers, researchers, and manufacturers in the US over the past 18 months demonstrates the extent of impact of the COVID-19 pandemic on the US healthcare system.
Trinity will continue to keep an eye on trends such as telemedicine, forward-facing vaccination clinical trials, and onshoring of drug development supply chains to monitor the duration of such impacts and the broader implications for the US healthcare system across stakeholders.
---
By Hannah Squires, Daniel Yamamoto, Stephanie Schrage, Daniel Ju, and Megan Mirabella
Sign up for the latest intelligence
By signing up, you are agreeing to our Privacy Policy.
By submitting this form, creating an account, and/or using our website (or using our Services) you agree to our Privacy Policy. Information provided by you is stored in our database and may be used for sending you additional information about Trinity (including Trinity's partners and affiliates) and our products and services. Such information may be transferred for this purpose to Trinity and affiliates in other countries. If you would like to opt out in the future, please email _compliance@trinitylifesciences.com.