Key Changes to Health Technology Assessments (HTAs) in the UK
Published February 2, 2022

The National Institute for Health and Care Excellence (NICE) will mark the start of 2022 by implementing changes to health technology assessments (HTAs), demonstrating adaptability of regulatory bodies as medical technologies continue to evolve. The final HTA changes aim to provide earlier and more equitable access to treatments as well as display increased flexibility in the evaluation of new health technologies. As part of NICE's plan to modernize healthcare, the changes will apply to both digital therapeutics as well as pharmaceutical products.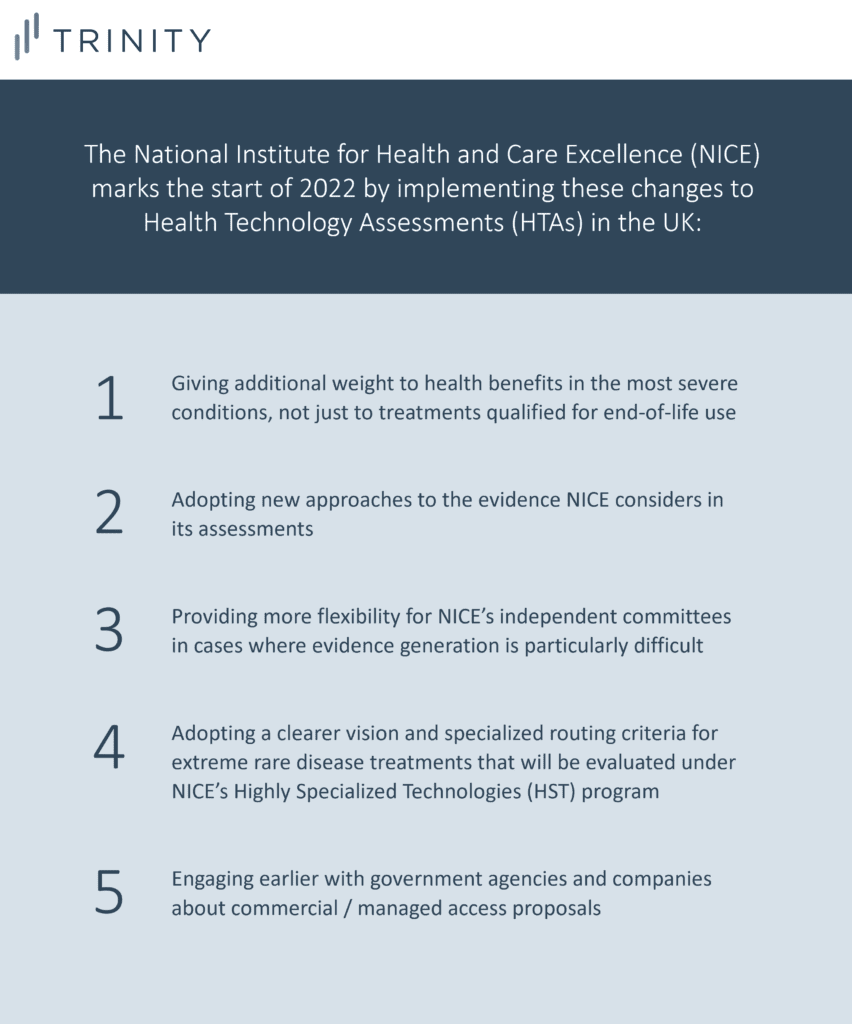 New NICE Evaluation Guidelines Will Take Effect in February 2022
NICE will adopt a 'rolling' review and evolution of all evaluation guidelines, prioritizing real world evidence (RWE), and customizing evaluations to best assess novel innovations (e.g., acknowledging unique requirements of personalized medicine vs. digital therapeutics) in an agile manner. The impact of the changes will likely not be seen until later in the year as the new evaluation process comes into effect starting next month, but competition can be expected between the UK and the EU for the initial launch of new innovative treatments. A faster assessment adds appeal for companies, especially those that may need to prioritize resources across markets.
The Evolution of NICE Guidelines With Novel Innovations, Including Digital Therapeutics
The new tailored approach for assessment also paves the way for increasing the availability of innovative treatments, including digital therapeutic products; Professor Gillian Leng, NICE chief executive, said that "our vision at NICE is to be at the forefront of delivering access for patients in the NHS to valuable, evidence-based innovative medicines, medical devices and diagnostics," with the goal of the new updates to enable NICE to "remain cutting edge as the healthcare landscape continues to evolve."
---
By Crystal Zhao and Kate Watkins
Related Intelligence