The Enhancing Oncology Care Model: Where Public Health Meets Oncology Care
Home

/

Intelligence

/

Blog

/

The Enhancing Oncology Care Model: Where Public Health Meets Oncology Care
November 7, 2022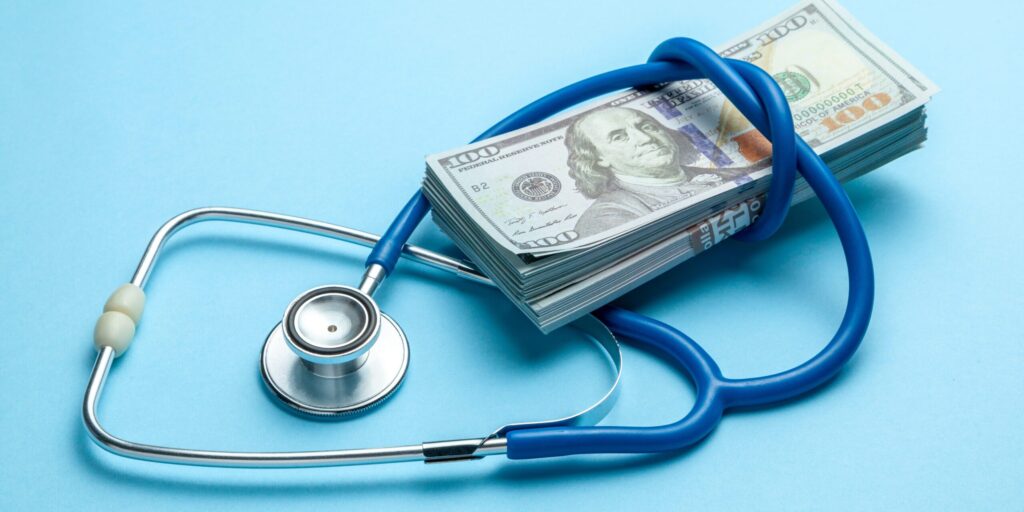 Executive Summary
The Oncology Care Model (OCM) was designed to test whether financial incentives can improve care and lower Medicare (U.S. federal health insurance program) spending, emphasizing value-based care within oncology treatment. This model supported a wide range of services such as high-cost emergency room visits, 24/7 access to clinicians and specialized, patient-specific coordinated care plans.
The Enhancing Oncology Model (EOM) builds on the structure of OCM with an increased focus on managing provider risk, promoting patient-centric care and addressing health disparities. Some notable differences between the OCM and EOM are lower Monthly Enhanced Oncology Services (MEOS) payments, decreased number of cancer types involved, mandatory downside risk and a limited patient population based on treatment type.
Trinity's Take: The OCM's predecessor includes mandatory downside risk to pay back payments, which could lead institutions that were otherwise not meeting these standards in the original model to not participate in the follow-on version. Additionally, while the EOM looks to incorporate social determinants of health (SDOH) into cancer care, it is still to be seen the true impact this will have on addressing these concerns.
Introduction
The OCM has recently concluded after five years of existence. Institutional participants advocated for a follow-up model – and following numerous reviews and analyses of the successes and points of improvement of the OCM, Centers for Medicare and Medicaid Innovation (CMMI) opted to introduce the EOM as its successor. This updated model incorporates the financial incentives utilized within the OCM to promote value-based care for oncology patients but highlights the importance of social determinants of health in addressing health disparities.
Overview of the Oncology Care Model (OCM)
The OCM is an oncology-specific alternative payment model run by the CMMI which was designed to establish more patient-centric care, while finding ways to manage the increasing cost of oncology treatment to heighten the use of high-value services. The model ran from July 2016 to June 2021, for eleven consecutive performance periods (PPs), each six months long. To improve patient care while being mindful of overall treatment costs, participants were given two financial incentives which included a MEOS payment and retrospective performance-based payments (PBPs). Both payments aim to decrease Medicare spending to improve overall care of patients and highlight value-based care in the oncology space which is experiencing ever growing treatment costs.
Following the conclusion of the model in July 2022, several analyses were conducted by CMMI to understand the impact of the OCM. It demonstrated an ability to decrease inpatient expenditures across participants, to create spend reductions in high-cost tumor types and to increase focus on treating the person and not the disease; an effective strategy to lowering the total cost of care.
CMMI opted to continue exploring value-based oncology care, and learning from the successes and areas of improvement from the OCM, developed the Enhancing Oncology Care model (EOM), with a projected start date of July 1, 2023, through June 30, 2028. Application submissions for the EOM began on June 27, 2022, and end September 30, 2022.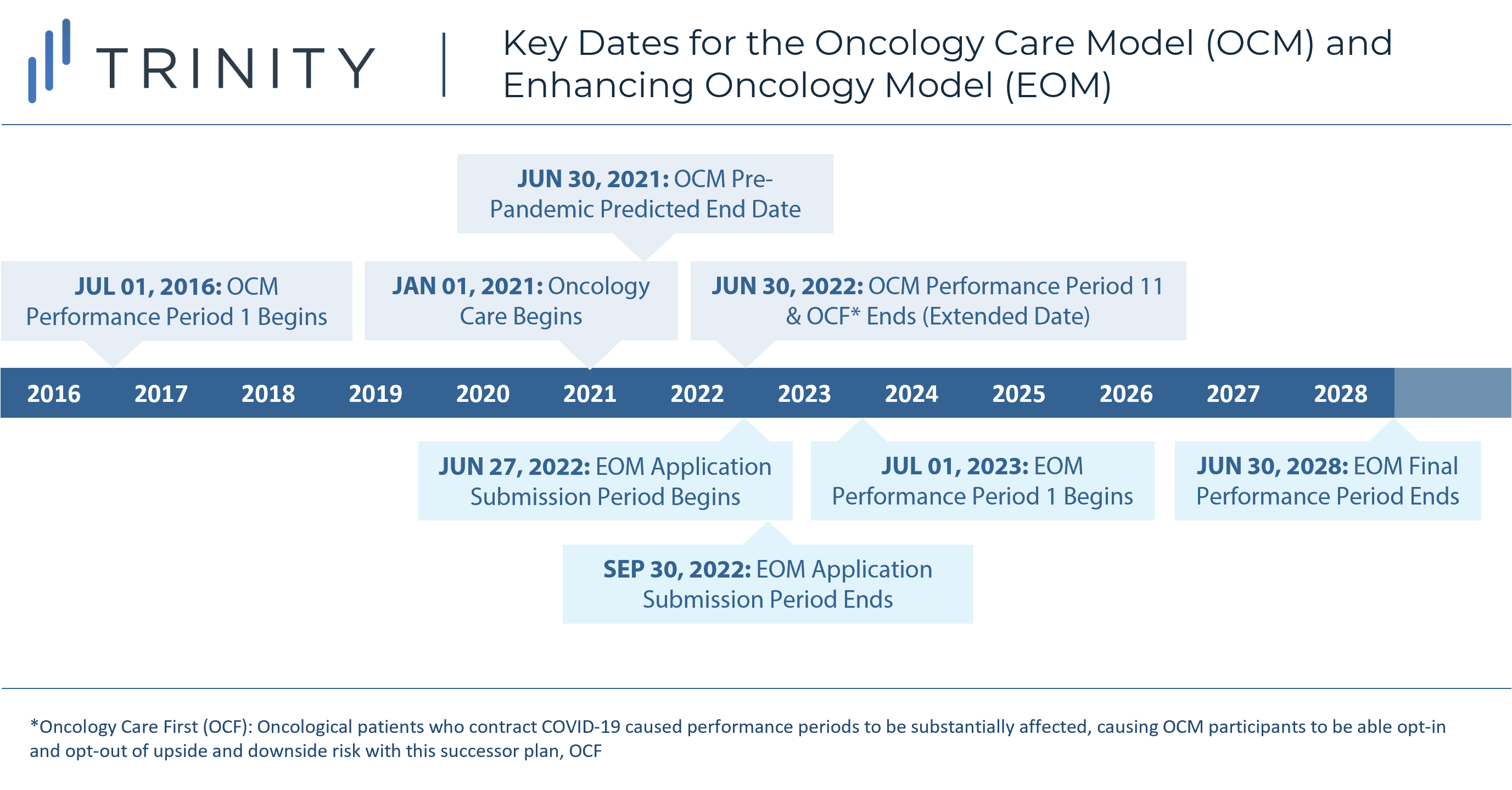 Transition to the Enhancing Oncology Model
Key Differences
The EOM builds upon the principles of the OCM, with a heightened focus on collecting data on SDOH, managing provider risk and promoting patient-centric care. While the new model takes after the OCM, the EOM decreased MEOS payments and added the requirement that participating institutions take on downside risk.
Although there are several notable changes to the EOM from the OCM, a focus on health disparities is the hallmark of this model. Data collection requirement is a core piece of this model. Health equity related data include beneficiary sociodemographic data, health related social needs (HRSN), health equity plans through continuous quality improvement (CQI) for healthy equity plans and key incentivizing strategies to promote care for the underserved.
On top of MEOS, participants must also abide by the PBPs that were present in the OCM. However, a stark change will be the mandatory inclusion of recoupment payments. Additionally, there are only seven cancer types accounted for in this model as opposed to the 21 in the OCM to achieve the highest opportunities for savings and improved care. The EOM has been modified to include only systematic chemotherapy treatment for seven cancer types which include breast cancer, chronic leukemia, small intestine/colorectal cancer, lung cancer, lymphoma, multiple myeloma and prostate cancer.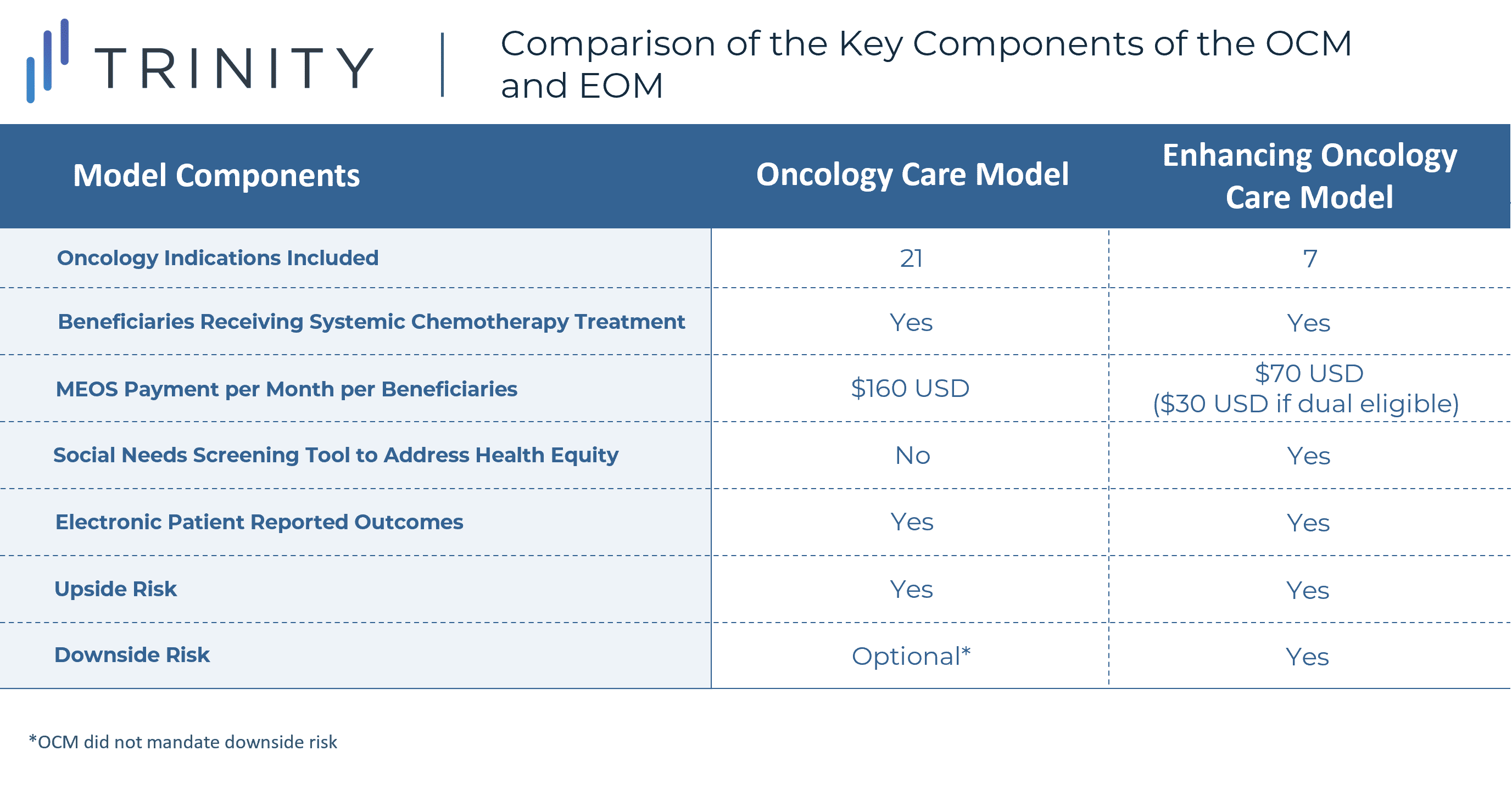 Downside Risk and its Implications
For institutions that were successful at managing costs of oncology treatment, the OCM provided a major financial benefit, especially given downside-risk being introduced late in the model, and optional at that. However, for institutions that chose to participate in its successor, the EOM requires downside risk to be accepted at the start. While required, the EOM offers two separate risk arrangements. One approach is more conservative while the other carries more risk with an opportunity for higher PBP.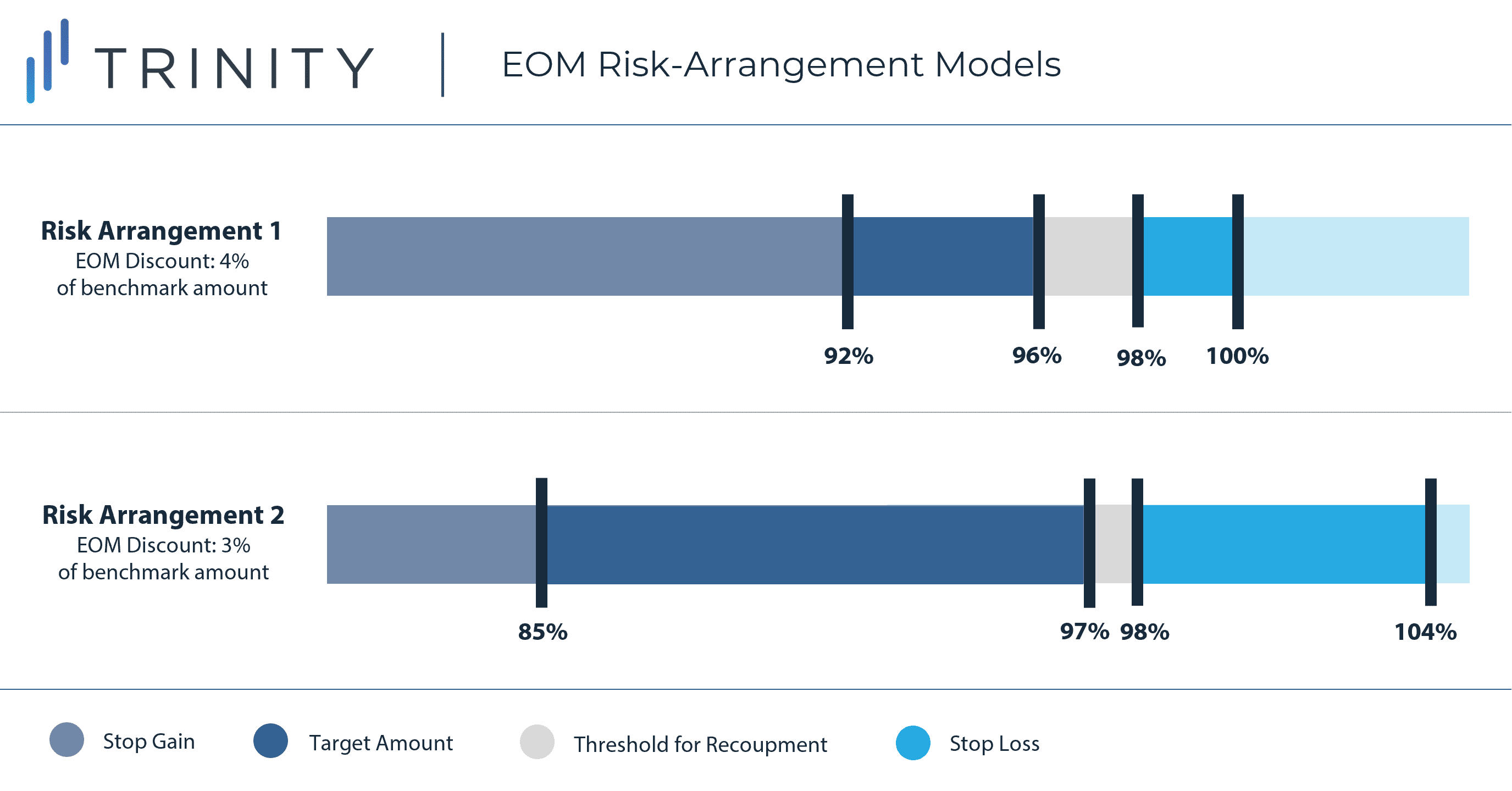 Given these adjustments, we have yet to see the impact of the required risk on institution willingness to participate. The risk and possibility of being responsible for recoupment payments may disincentivize participants from OCM to continue to the EOM. The level of experience handling risk models may vary amongst participants and even those with higher levels of experience may shy away from a model that could cause them to lose money overall. It is expected that these new risk arrangements will be key decision-making factors for institutions when discussing their willingness to participate in the EOM. However, institutions that have been successful within the OCM may be eager to participate in an updated model that could lead to even higher PBPs.
An additional concern surrounding finances in the EOM for oncology institutions is the decrease in MEOS payments, which are provided on a monthly basis per beneficiary to assist in funding for enhanced services. With the increased pressure of downside risk arrangements along with lower MEOS payments, these seemingly financial disincentives may deter them from enrolling in this model as readily.
Conclusion and Future Implications
Some major implications of the EOM's changes from the OCM include greater risk, lower MEOS payments and increased resource utilization from participating institutions. However, the emphasis on addressing health inequities and the overall increased focus on clinical outcomes for patients are strong characteristics of the EOM. Institutions will need to consider the financial benefits around reduced MEOS payments, increased monitoring/data collection requirements and the possibility of owing recoupment payments.
Over the coming months, CMMI is expected to release additional information regarding participating institutions and expectations within the model. It is to be seen as to what steps arise for the main goals of the EOM. As the model kicks off and evolves, stakeholders will be monitoring how health disparities begin to be addressed through the model beyond just through data collection, and how SDOH can be adequately addressed and considered when developing treatment plans.
---
Authors: Danika Berman, Diarra Oden, Maximilian Hunt
Sign up for the latest intelligence
By signing up, you are agreeing to our Privacy Policy.
By submitting this form, creating an account, and/or using our website (or using our Services) you agree to our Privacy Policy. Information provided by you is stored in our database and may be used for sending you additional information about Trinity (including Trinity's partners and affiliates) and our products and services. Such information may be transferred for this purpose to Trinity and affiliates in other countries. If you would like to opt out in the future, please email _compliance@trinitylifesciences.com.