Enabling Contract Administration Capabilities
Available On Demand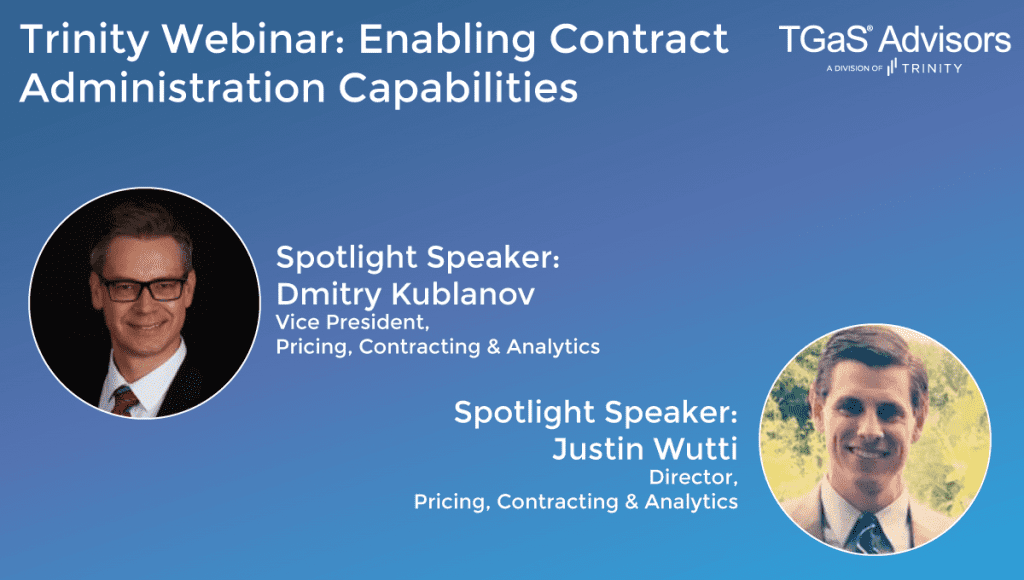 ---
Are you a leader in a pre-commercial company evaluating your contract administration needs?
Are you a leader in a commercial company struggling with manual contract administration processes?
---
If either scenario sounds familiar, watch our latest webinar, Enabling Contract Administration Capabilities. TGaS Advisors, a division of Trinity Life Sciences, has designed this webinar specifically for Market Access and Contracting leaders in pre-commercial and emerging life science companies.

During the webinar, we discuss industry best practices and approaches for building and optimizing your contract administration function, ensuring efficient operations, and maximizing your contract profitability.
---
Key Webinar Topics
Determining the appropriate time to enable contracting administration capabilities
The pros and cons of building in-house capabilities versus outsourcing
How to choose the right system or outsource to the right partner
Optimizing organizational structure and determining staffing requirements
How to ensure government compliance to avoid negative headlines
---
Please complete the form to watch our Trinity Webinar: Enabling Contract Administration Capabilities.
By submitting this form, creating an account, and/or using our website (or using our Services) you agree to our Privacy Policy. Information provided by you is stored in our database and may be used for sending you additional information about Trinity (including Trinity's partners and affiliates) and our products and services. Such information may be transferred for this purpose to Trinity and affiliates in other countries. If you would like to opt out in the future, please email _compliance@trinitylifesciences.com.
Sign up for the latest intelligence
By signing up, you are agreeing to our Privacy Policy.
By submitting this form, creating an account, and/or using our website (or using our Services) you agree to our Privacy Policy. Information provided by you is stored in our database and may be used for sending you additional information about Trinity (including Trinity's partners and affiliates) and our products and services. Such information may be transferred for this purpose to Trinity and affiliates in other countries. If you would like to opt out in the future, please email _compliance@trinitylifesciences.com.