Real-World Evidence Webinar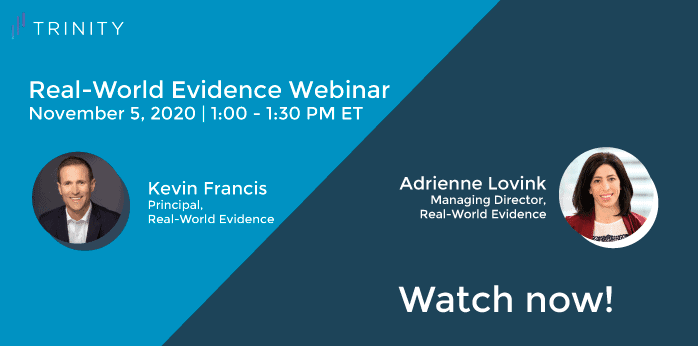 Realizing the Value of RWE Data… Faster
Biopharmaceutical companies recognize the value of RWE and strive to make it a routine part of their decision-making process. Many face challenges, however, with optimizing their use of RWE data in the earlier stages of commercial planning and in life-cycle management. Disparate, error-prone, costly data coupled with a lack of time, resources, or experience generating insights lead to elongated project timelines.

During this webinar, we will discuss barriers to RWE use in commercialization planning and how Trinity EvidenceFirst™ is helping companies to take advantage of real-world insights like never before.

Key Topics
1. Barriers the industry is facing that makes real-world data difficult to access and use.
2. How Trinity EvidenceFirst is transforming the speed to value while answering four fundamental questions:
– Who are the patients?
– Where do you find them?
– How are they treated?
– What are their outcomes?
3. Scenarios to show how companies can extract more value from real-world data.
Please complete the form to view our Real-World Evidence Webinar.
By submitting this form, creating an account, and/or using our website (or using our Services) you agree to our Privacy Policy. Information provided by you is stored in our database and may be used for sending you additional information about Trinity (including Trinity's partners and affiliates) and our products and services. Such information may be transferred for this purpose to Trinity and affiliates in other countries. If you would like to opt out in the future, please email _compliance@trinitylifesciences.com.
Sign up for the latest intelligence
By signing up, you are agreeing to our Privacy Policy.
By submitting this form, creating an account, and/or using our website (or using our Services) you agree to our Privacy Policy. Information provided by you is stored in our database and may be used for sending you additional information about Trinity (including Trinity's partners and affiliates) and our products and services. Such information may be transferred for this purpose to Trinity and affiliates in other countries. If you would like to opt out in the future, please email _compliance@trinitylifesciences.com.