How to Position Evidence for Successful Commercialization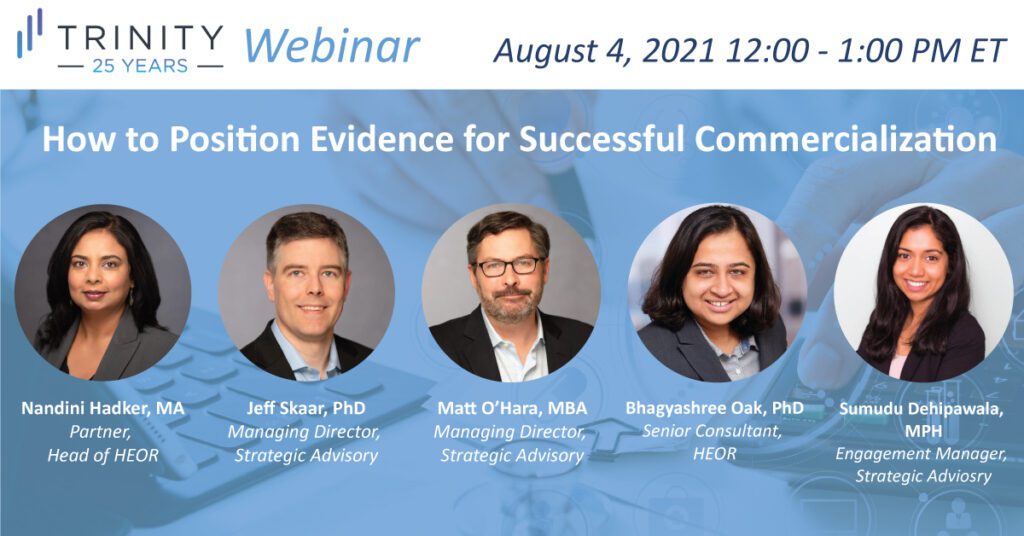 The HEOR Evidence Generation team at Trinity Life Sciences will conduct a webinar to discuss recent publications geared towards crafting the value story for products prior to launch. Please join us to learn what evidence is needed and how best to position it for successful commercialization. We will present original work conducted on behalf of our valued clients in several different therapeutic areas – Oncology, Cardiology, and Rare Genetic Disorders.
You already know the importance of driving awareness and conducting market shaping activities as you launch a new product. But what steps do you specifically need to take? How would you characterize the market today, and articulate the unmet need for your product? Come learn with the Trinity Evidence Generation team!
By submitting this form, creating an account, and/or using our website (or using our Services) you agree to our Privacy Policy. Information provided by you is stored in our database and may be used for sending you additional information about Trinity (including Trinity's partners and affiliates) and our products and services. Such information may be transferred for this purpose to Trinity and affiliates in other countries. If you would like to opt out in the future, please email _compliance@trinitylifesciences.com.
Sign up for the latest intelligence
By signing up, you are agreeing to our Privacy Policy.
By submitting this form, creating an account, and/or using our website (or using our Services) you agree to our Privacy Policy. Information provided by you is stored in our database and may be used for sending you additional information about Trinity (including Trinity's partners and affiliates) and our products and services. Such information may be transferred for this purpose to Trinity and affiliates in other countries. If you would like to opt out in the future, please email _compliance@trinitylifesciences.com.