The Last Mega Blockbuster Drug: Goodbye Humira, Hello Future
Published April 21, 2023

Executive Summary
Biosimilar versions of adalimumab have launched in the U.S., ending blockbuster therapy Humira's lengthy market exclusivity and long-running commercial success.
In parallel, in the creation of the Inflation Reduction Act (IRA), the U.S. joins Europe and other major markets in constraining the opportunity for medicines during their market exclusivity window.
Trinity's Take
These events usher in a new era for the life sciences industry, necessitating new thinking around development and commercialization strategy.
Historic reliance on the U.S. market poses a risk for pharma and biotech incumbents, who may need to rebalance their sources of revenue in an increasingly multipolar world.
General purpose technologies (GPTs) and artificial intelligence (AI) simultaneously introduce massive opportunities and uncertainties across industries.
Looking into the future, commercial success for life sciences innovation may look vastly different than the precedents established by Humira and past blockbusters.
Introduction
As the second highest grossing drug worldwide, with $21.6 billion in global revenue and $17 billion in U.S. revenue in 2021, AbbVie's Humira is one of the most commercially successful blockbuster therapies of all time. Humira launched in 2002 in rheumatoid arthritis (RA) and quickly expanded to other key immunology indications. While biosimilar versions of the therapy have been available in ex-U.S. markets since 2018, they have been blocked from launching in the U.S. until recently due to a series of lawsuits that AbbVie filed against biosimilar manufacturers for patent infringement. As a result, Humira has enjoyed a lengthy lifecycle with limited price competition.
While investors have appreciated the lack of biosimilar competition against Humira, U.S. payers and legislators have not. Humira's long lifecycle contributed to the creation of specific rules within the 2022 Inflation Reduction Act (IRA), which serve to ensure that future blockbusters are not able to maintain branded pricing indeterminately by holding off generic or biosimilar competition. The IRA introduces a new process that will allow the Secretary of Health and Human Services to require mandatory discounts for high-Medicare spend therapies even if the manufacturer still retains patent protection and market exclusivity. Because of these new rules, the U.S. joins other major markets around the world in having price controls, albeit with a novel structure.
In addition to the evolving policy landscape, Humira's historic success at defending against biosimilar entry in the U.S. has ended. After a confidential lawsuit settlement, AbbVie allowed Amgen to launch the first authorized adalimumab biosimilar, Amjevita, in the U.S. on January 2023 despite initial FDA approval on September 2016. Amgen will be required to pay royalty payments to AbbVie. Based on similar agreements, seven other biosimilars are allowed to launch in the U.S. in 2023.
Amidst the entrance of biosimilar adalimumab competitors in the U.S., policy evolution and greater austerity measures applied to healthcare spending globally have resulted in rapid landscape evolution across the life sciences. As Humira's decades as a blockbuster come to an end due to biosimilar entrants, the ability for other brands to duplicate this level of sustained commercial success is rendered infeasible by the IRA. It will be critical to consider how the research, development, and commercialization landscape will evolve now that the long-term pricing opportunity for mature blockbuster therapies will be constrained.
The Death of a Blockbuster: Biosimilar Adalimumab Entrants in the U.S.
As the first authorized biosimilar entrant in the U.S., Amjevita's pricing and contracting strategy as well as the market's response to the product, provide a useful case study in how the immunology landscape might evolve in the coming years. Due to Humira's blockbuster status, biosimilars for the molecule have been eagerly awaited by many patients and other stakeholders based on their potential to create cost savings.
Pricing
When exploring the impact of biosimilar Amjevita in the U.S. on immunology pricing, it may be helpful to consider the 2018 launch of biosimilars in Europe as an analogue. When biosimilar adalimumab launched in Europe, branded Humira faced substantial price erosion in European markets against biosimilars (i.e., Amjevita, Imraldi, Hulio and Hyrimoz). According to a 2021 Journal of Pharmaceutical Sciences report, competition against adalimumab biosimilars in Europe resulted in AbbVie reporting a more than 30% decrease in net revenue in 2019. Humira's pricing strategy has varied between countries in the EU5 in light of biosimilar competition and pricing regulations. While branded Humira has maintained a price premium of more than 33% above biosimilars in Italy and the U.K., this is not the case in other markets where brands are often forced to match biosimilar prices.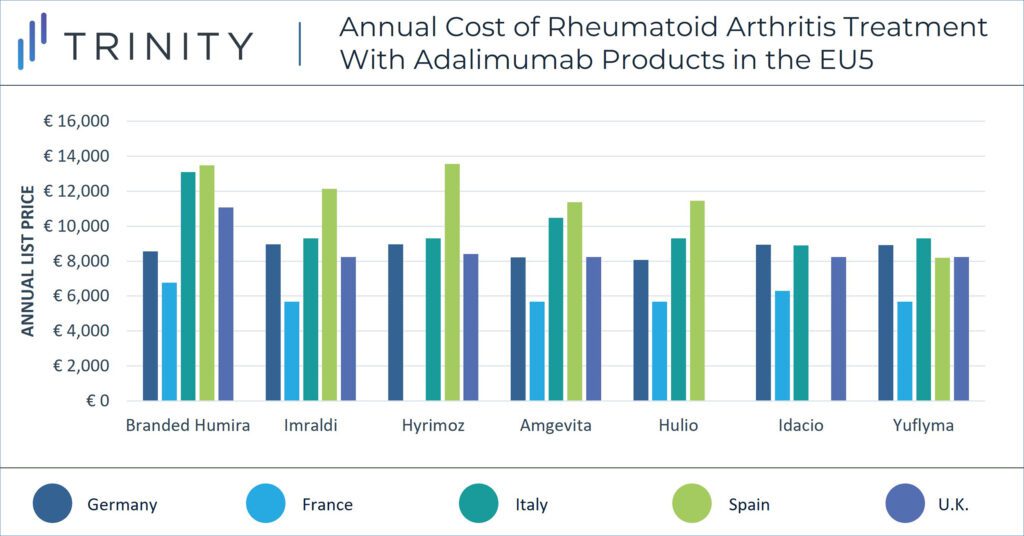 The pricing strategy of adalimumab biosimilars will likely differ substantially in the U.S. vs in the EU. The U.S. and ex-U.S. markets have a significant price difference for branded Humira and biosimilar adalimumab molecules alike. Currently, branded Humira's list price in the EU5 is up to 92% lower than its equivalent dose in the U.S. Similarly, branded biosimilar Amjevita's list price in the EU5 is on average 90% lower than its counterpart in the U.S.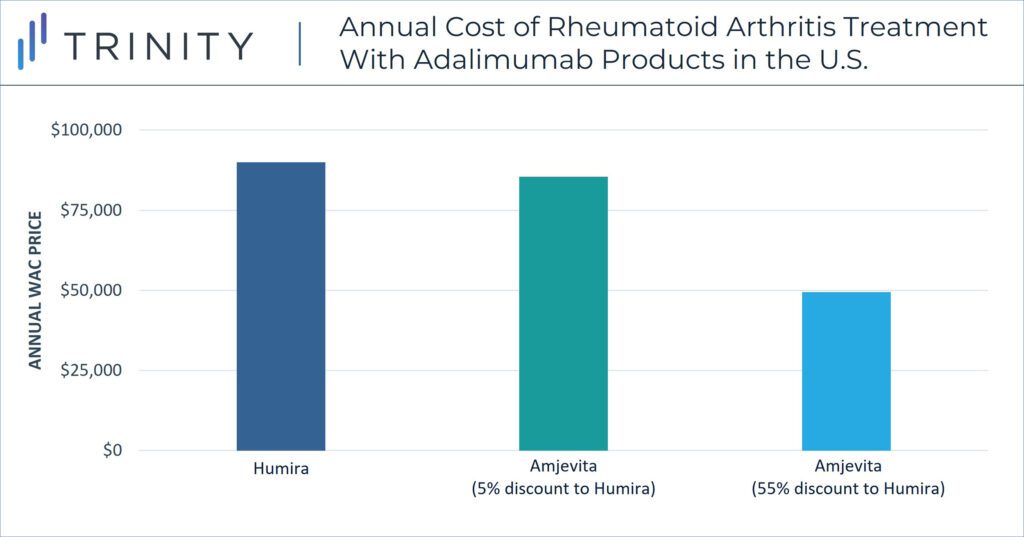 Unlike in the EU, in the U.S. pricing strategy must consider the role of private payers and associating rebate dynamics. WAC prices are not equivalent to the true cost of treatments for payers or patients in the U.S., but confidential discounts and resulting net prices have a more significant impact within pricing strategy. In a notable strategy decision, Amgen released Amjevita in the U.S. with two WAC price options, either a 5% discount to Humira or a 55% discount to Humira. Although the specific net discounts remain confidential, the WAC differential allows Amgen to include an adjusted rebate amount between the two-pricing options. These differential WAC pricing options also provide solutions for customers who seek a lower list price and for customers who benefit from higher rebate volume. U.S. contracting dynamics influence this pricing strategy.
Contracting
As one of the top rebated therapies in the U.S., branded Humira has an entrenched contracting footprint. In parallel, AbbVie has established itself as a strong portfolio contractor, particularly in immunology with Humira and its other agents Rinvoq and Skyrizi. Therefore, in the short-term, it is unlikely that a simple discount from biosimilar manufacturers will be sufficient to sway U.S. payers to offer preferential management due to the power of portfolio contracting in this landscape.
These dynamics can be seen in the U.S. payer response to adalimumab biosimilars thus far. Major pharmacy benefit managers Express Scripts, Optum Rx, and Prime Therapeutics have committed to adding some adalimumab biosimilars to their preferred formularies, at an equal position to branded Humira. It is not yet known which of the biosimilar brands will be preferred once the other entrants join Amjevita on the market.
As of April 2023, CVS Caremark was still determining its initial approach for placement of biosimilar versions of adalimumab and the branded originator, noting that the organization may choose to take different approaches for different plans and their strategy may shift in the next several years. However, Amjevita was placed on a non-preferred brand tier while Humira remained preferred.
As additional adalimumab biosimilars launch, it will be important to monitor how contracting decisions evolve and if any formularies place a biosimilar adalimumab at a more preferential position than branded Humira, as this will also influence utilization.
Utilization
Another key point of differentiation between the U.S. and EU markets with high uptake of biosimilars, is the lack of national guidelines in place that encourage or even require physicians to prioritize the use of biosimilars. In the U.S. there are no major physician associations that have released guidelines requiring the use of biosimilars. As the U.S. also does not have a single-payer health system, there is a limited national effort to encourage the use of biosimilars, and specific rules are regulated at a state level.
States may organize their preferred drug list to incentivize use of biosimilars; in some states pharmacists are allowed to substitute reference products with the interchangeable biological product if biosimilar meets FDA requirements. Currently, Amjevita does not have an interchangeability designation, but Amgen is conducting a switching study as an attempt to obtain the interchangeability label post-launch. As of March 2023, only one adalimumab biosimilar, Cyltezo, has received interchangeability designation. Four other biosimilars are expected to receive interchangeability status prior to or post launch. In some states, pharmacists can switch out a prescribed product in place of an interchangeable biosimilar without asking a physician. In recent years, most states passed laws for pharmacies to inform patients and physicians of substitution rather than prior authorization requests which could add burden on providers for biosimilar adoptions in various indications.
Lipitor as Historical Context: Another Blockbuster Bites the Dust
Lipitor was the leading blockbuster of its era, and hence provides an interesting case study for evaluating the Humira situation. Small molecule therapy Lipitor can be considered as an analogue of a significant blockbuster that similarly tried to stave off generic competitors until eventually partnering with generic entrants and leveraged contracting to slow the uptake of the generic entrants. First launched in 1997, Lipitor is a cholesterol-lowering drug that generated over $100 billion for Pfizer during its 14-year patent-protected lifetime.
Lipitor's patent expired in 2011. In the same year, Watson entered into an agreement with Pfizer to launch an authorized generic asset allowing an exchange for royalties, resulting in generic competition. Similar to Abbvie and Humira, manufacturer Pfizer leveraged Lipitor's volume to contract competitively despite generic competitors. This strategy ultimately delayed the patient transition to generics. Nevertheless, Lipitor's U.S. price fell by 95% from $5 per pill, its launch price, to 31 cents per tablet due to competition with generics. They also delayed the entry of generic atorvastatin with various authorized generics agreements which resulted in some backlash in 2018 from generic Indian drugmaker, Ranbaxy Laboratories and CVS, since this mechanism deprived consumers of savings and costing health plans.
Additionally, Pfizer offered various discounts and rebates to payers to ensure utilization and agreed with health plans of a rather unusual mechanism known as reverse substitution method where pharmacists substitute generics for branded Lipitor for generics. Due to this, the U.S. Senate scrutinized Pfizer's strategy in 2011. Multiple members of Congress expressed that the reverse substitution of the discount deals undermined generic access, since Lipitor brand was being sold at a lower price and pharmacies were incentivized to only dispense branded Lipitor rather than generics.
Due to the evolving policy landscape in the U.S., manufacturers likely will seek ways to avoid IRA penalties and mandated price discounts in the future. Lipitor's reverse substitution method is an example of what one blockbuster manufacturer tried in the past that drew political scrutiny. However, legislators have considered this when writing the IRA, and preemptively included rules limiting the ability for manufacturers to manipulate the exemption categories for the minimum-discount negotiations through authorized generics. Although there is an exemption for therapies with generic or biosimilar competitors available, it remains to be seen the extent to which manufacturers will be able to strategically partner with generic or biosimilar manufacturers in a manner that also avoids true competition to avoid mandated discount negotiations.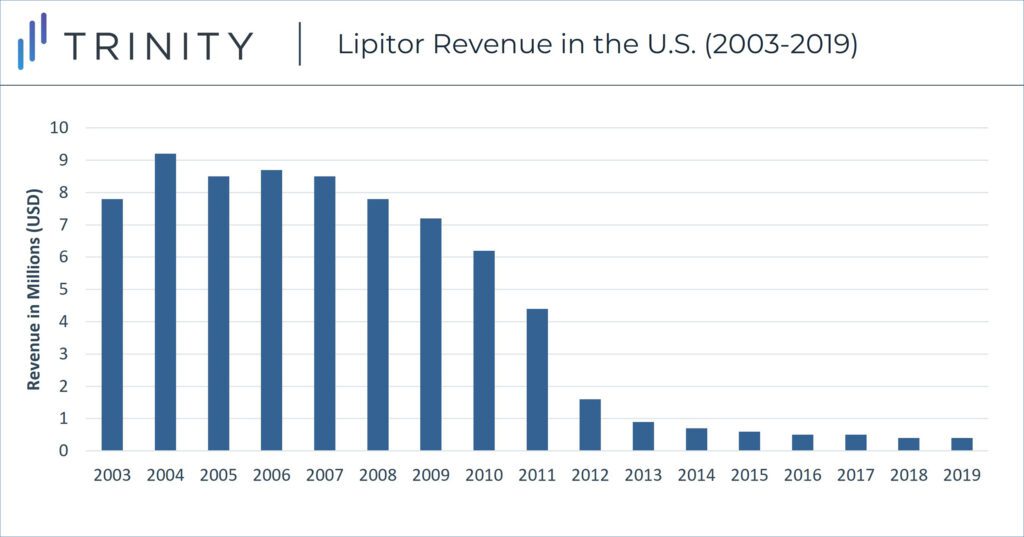 Despite Pfizer's strategic positioning against generics, including negotiated deals to delay competition entry, Lipitor sales declined in the U.S. in late 2011 with the launch of numerous generic atorvastatin pills. U.S. Lipitor sales peaked in 2004 at ~$9.2 billion, but annual sales declined by 90% sales and dipped to less than $1 billion in 2013.
Entering a New Era
When considering the historic success of blockbusters like Humira, the overall landscape can be broken into several defining eras. During Lipitor's protected lifecycle, it served as the key blockbuster within the "Era of Small Molecules" which saw success achieved by mass market drugs that faced limited market access challenges. Humira has been the prominent blockbuster in the subsequent "Era of Antibodies" where new drugs were increasingly sophisticated and costly. During this period, list prices in the U.S. steadily increased year over year, but so too did the gap between list and net prices (the so-called gross-to-net bubble). Humira biosimilars do not form a hard stop to the current era, as other blockbusters such as Keytruda and Dupixent march on, but the IRA closes the chapter where the revenue opportunity in the U.S. was largely uncapped.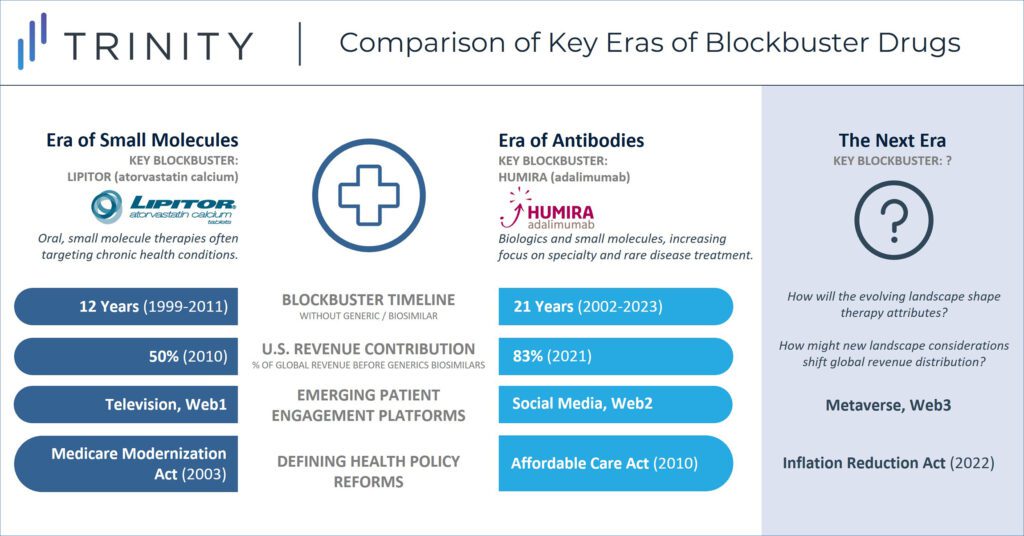 Historic efforts to prioritize investment in a small number of pipeline therapies with blockbuster revenue potential may give way to more distributed investment that seeks to balance clinical benefit and spread out commercial success. Additionally, while manufacturers have traditionally launched therapies in a "proof of concept" indication before expanding to additional indications, this will evolve given that the IRA sets a timeline for how long therapies can maintain branded-like pricing in the world's largest pharmaceutical market. Manufacturers will be incentivized to pursue the indication sequence that maximizes their short-term revenue, understanding that they will forgo long-term revenue opportunity once eligible for mandatory price negotiations.
With the creation of long-term revenue limit for Medicare, the U.S. now takes a small but meaningful step closer to socialized healthcare markets that negotiate prices for all branded therapies. In addition to the changes that the IRA will bring, transformation of global economy will also inform the future of life sciences. While the U.S. dollar has been the center of the global economy since World War II, recent shifts in global trade and geopolitical relationships have led to an increased detachment from a singularly U.S. dominated global economy. How the life sciences industry responds to this, including as it pertains to its historic reliance on the U.S. market, will be critical.
While the transition from a unipolar to multipolar global economy introduces tremendous uncertainty and numerous potential challenges, transcendent opportunities are also on the rise. Artificial intelligence (AI) and other general-purpose technologies (GPTs) have the potential to reshape everything from drug discovery to commercialization in ways that are not yet apparent, including enabling truly personalized medicine. Open and borderless collaboration models such as the decentralized science (DeSci) movement have the potential to challenge antiquated research models and drive efficiency by operating on native digital infrastructure. After nearly a century of global centralization, the forces of decentralization have the potential to empower individual patient-provider relationships, which collectively form the foundation of the entire healthcare ecosystem. Amidst these changes, from healthcare reform to technological revolution, these transformations can unlock the next phase of innovation for the life science industry and usher in a new vision of commercial success.
---
Authors: Maximilian Hunt, Grace Mock, Pansy Law, Jeremy Pang
Related Content
BLOG
The Humira Case: Exploring the Blockbuster Ahead of United States Biosimilar Launch
WEBINAR
Goodbye Humira, Hello Future
Related Intelligence