The Humira Case: Exploring the Blockbuster Ahead of United States Biosimilar Launch
Home

/

Intelligence

/

Blog

/

The Humira Case: Exploring the Blockbuster Ahead of United States Biosimilar Launch
Published July 20, 2022
Summary
Up to nine biosimilar versions of Humira (adalimumab) are expected to launch in 2023 in the United States, following settlements between AbbVie and their respective manufacturers
In contrast, biosimilar versions of adalimumab have been available in most countries outside the U.S. since 2018, resulting in high pricing disparities between immunology and inflammatory treatments between the U.S. and other markets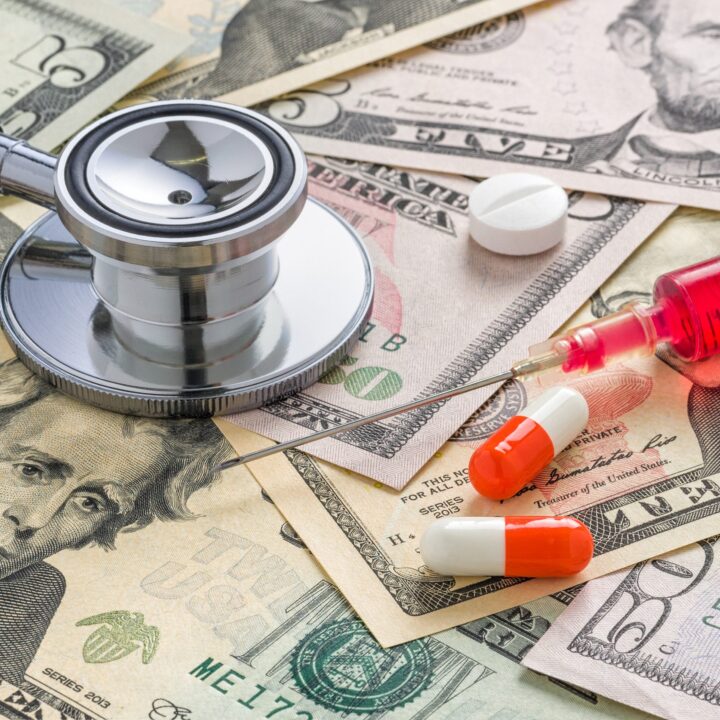 Trinity's Take
Adalimumab biosimilar competition in Europe, as well as policy and payer pressure, has exerted downward pricing pressure for branded Humira, causing it to drop its price to near biosimilar-like prices in Germany, France and Italy
Additionally, national guidelines requiring physicians to prescribe a biosimilar prior to a branded originator of the same molecule in some EU markets, including the United Kingdom and Germany, have caused a decline in the uptake of branded Humira following its loss of exclusivity
Biosimilar versions of adalimumab entering the American market in 2023 will provide payers opportunities to generate significant savings given the large volume of adalimumab currently in use
Due to the potential cost savings that biosimilar adalimumab offers for U.S. payers, payers are likely to prefer the biosimilar ahead of other emerging options in the space, even if new treatments offer greater convenience or mild to moderate improvement to efficacy
Introducing Humira as a Blockbuster
Humira is a top selling drug (USD 20.7B in global revenue in 2021) that has amassed approvals in more than ten conditions. It is an anti-TNF therapy that was originally created as a treatment for Rheumatoid Arthritis (RA) through a collaboration between the Cambridge Antibody Technology Group and BASF Pharma. It achieved positive Phase I trial results in 1998, and Abbott Laboratories, which AbbVie later spun off from, purchased BASF Pharma shortly after in 2001. In 2002 Humira gained FDA approval for its use in RA, and in 2003 EMA approval followed. By 2003, Humira was approved in 38 countries and by 2010, 83 countries.
Because Humira was one of the first biologic therapies to be developed, it was able to establish a broader set of patents in the United States than later biologic entrants. The brand has patents on facets of the manufacturing process, scientific uses of the Anti-TNF therapy class, certain chemical compositions, purification techniques, and cell culture methods among other protected characteristics and processes.
Selected Excerpt of Humira Patents (Non-Exhaustive)
PATENT PURPOSE
YEAR GRANTED
LINE OF THERAPY
PATENT NUMBER
Treatment of RA with Anti-CD4 antibodies in conjunction with Anti-TNF antibodies
1998
First
5741488
Human antibodies that bid to human TNF alpha
First-line: 2000
Second-line: 2001
First / Second
609382 / 6258562
Autoinjector with extendable needle protector shroud
2003
First
6805686
Antibody Purification
2011
First
7863426
Fed-batch cell culture methods using non-animal based hydrolysates
2012
First
8093045
Methods of producing Anti-TNF-alpha antibodies in mammalian cell culture
2014
Second
8663945
Automatic injection device
2014
First
8679061
Removal of needle shields from syringes and automatic injection devices
2014
First
8708968
Formulation of human antibodies for treating TNF-alpha associated disorders
2015
Second
8940305
Fed-batch methods for producing adalimumab
2016
Second
9234032
Methods for treatment of ankylosing spondylitis using TNF alpha antibodies
2016
First
9279015
Legal Action
In 2018, the first adalimumab biosimilar launched in Europe, with other biosimilar versions following and expanding to a near-global presence. The contrast between biosimilar competition driving down pharmaceutical prices ex-United States Humira-indicated diseases with the continued lack of competition in the United States has led to scrutiny from manufacturers seeking to secure entry in the American market for their adalimumab biosimilars.
When Amgen gained FDA approval for adalimumab biosimilar Amgevita in 2016, AbbVie sued them for patent infringement. By 2017, however the two manufacturers settled the case with an agreement that Amgevita would be allowed to launch in 2023 in the United States by licensing Humira patents. As part of the agreement, Amgen must pay royalties to AbbVie and acknowledges the validity and enforceability of AbbVie's patents. This pattern of biosimilar creation, lawsuit initiation, and settlement allowing a 2023 biosimilar launch, started with Amgevita but since has been repeated for six other FDA approved adalimumab biosimilars and two adalimumab biosimilars that have not yet gained FDA approval. The seven FDA approved adalimumab biosimilars are Cyltezo (Boehringer Ingelheim), Amjevita (Amgen), Hyrimoz (Novartis Sandoz), Hadlima (Samsung Bioepis), Abrilada (Pfizer) and Hulio (Mylan). Additionally, both Fresenius Kabi and Alvotech / Teva have reached agreements to license Humira's patents for their respective adalimumab biosimilars which have not yet gained FDA approval but are expected to launch as early as 2023.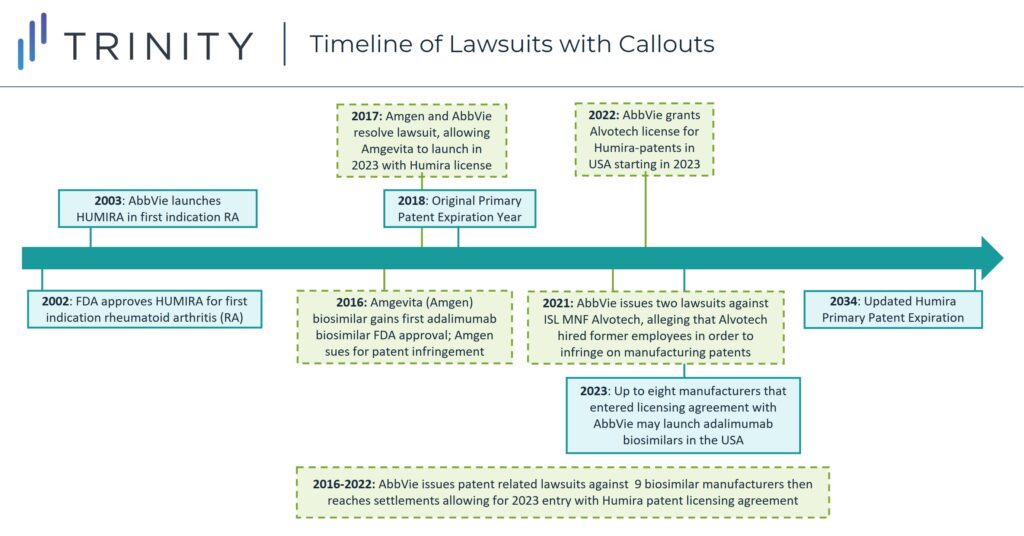 Global Pricing Comparison for Biosimilars
Since 2018, biosimilar competition in European markets, including Germany, France, and Italy, has led to erosion in adalimumab prices. A Frontiers in Pharmacology study found that by May 2019, Humira's list price had decreased in 17 out of 30 European countries examined, with up to 80% discounting from the list price in certain markets, including Italy. Policies such as economic prescribing guidelines in Germany and institutional negotiations, including with German Sick Funds and Italian regional payers, helped encourage biosimilar uptake. According to sales analysis, in 2021 biosimilars comprised 69% of the total volume share in Germany for the Anti-TNF class. In France, Anti-TNF biosimilars controlled 54% of the market share and in Italy 74%.
Without the pressure from biosimilar competitors, Humira has not faced the same pricing competition in the United States. The net price of an equivalent dose of Humira in the United States is more than 700% of the manufacturer price in France, almost 400% of the Italian price, and almost 500% of the German price.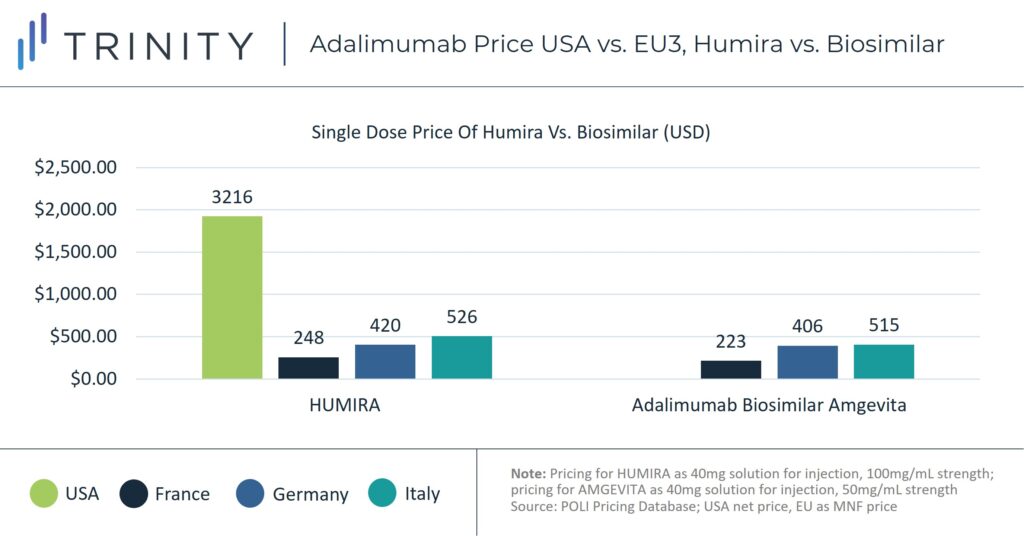 United States Revenue Impact
Despite increased competition from new entrants for Humira and continued price decreases internationally, its price continues to increase in the United States. Between 2019 and 2020, Humira's WAC price in the United States increased by 7.3% and its net price increased by 9.6%, resulting in a national spending increase of USD 1.4 billion. Based on this trend, the Institute for Cost Effectiveness Research (ICER) identified Humira as one of ten treatments nationally with the most significant and clinically unsubstantiated net price increases of 2020. Between 2017 and 2020, Humira's net price in the United States increased by 29.6%.
"There remain many high-cost brand drugs that continue to experience annual price hikes, even after accounting for their rebates. The most extreme of these is Humira, with an ever-escalating United States price that contrasts starkly to its falling price in every country where Humira currently faces biosimilar competition," ICER Chief Medical Officer Dr. David Rind noted in the report.
A 2021 study found that the launch delay of the five FDA approved biosimilars accepted between 2016 and 2019 had blocked Medicare from accessing USD 2.19 billion in savings from expected price reductions and rebates. In 2019 Medicare's total pharmaceutical spending amounted to USD 183 billion. Between 2009 and 2018 the annual net Medicare price of Humira increased 151%. 
The higher price of Humira in the United States has caused American sales to contribute a disproportionate amount of Humira's revenue. At the end of 2021, Humira's net revenue from the United States was over five times more than its international amount, with approximately USD 17.3 billion vs. USD 3.3 billion for the year or 81% of revenue driven by sales in the United States. In 2017, before Humira's initial loss of exclusivity, 66% of the therapy's total revenue was driven by sales in the United States, with USD 20.6 billion vs. USD 6.1 billion international revenue for the year.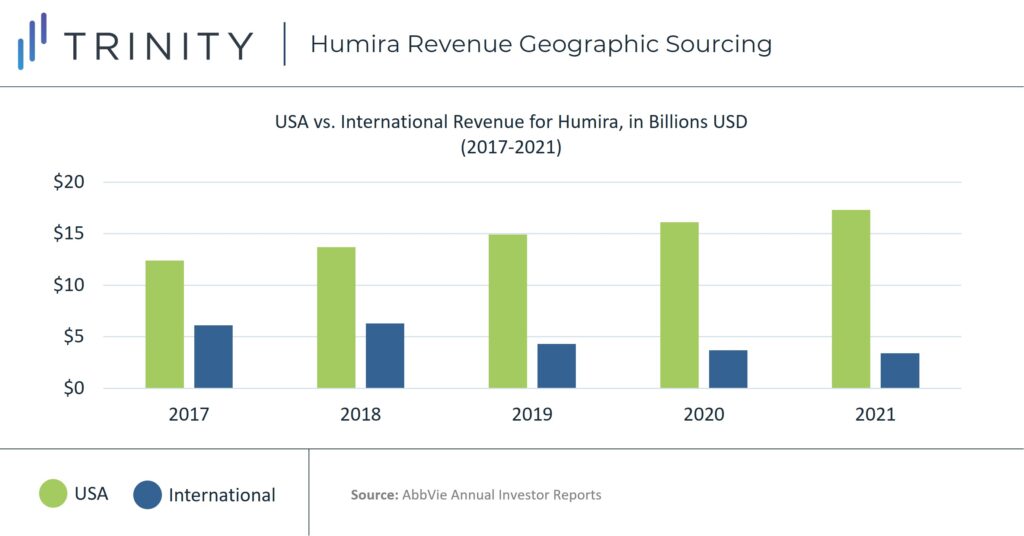 Conclusion
When manufacturers face impeding loss of exclusivity, an industry-wide trend is to introduce new therapies for the same disease that offer improvements, including increased efficacy or convenience for patients. These therapies are sometimes referred to as "bio-betters." As additional biosimilars enter the market in the United States, it is likely that some payers will adopt a "biosimilar-first" policy similar to those in place in the United Kingdom and Germany. As American payers look forward to capturing savings from the reduced prices that biosimilars bring to the market, manufacturers can shift their resources to bringing new innovative therapies to the market.
Ahead of the entrance of biosimilar adalimumab in the United States, AbbVie has added to its portfolio and the landscape of Humira competitors through newer therapies Rinvoq and Skyrizi. Rinvoq gained FDA approval for use in Rheumatoid Arthritis in 2017 and has since earned approvals several other inflammatory and immunology diseases. Long-term evaluation of Rinvoq shows a small but significant benefit over Humira for its use in Rheumatoid Arthritis, with higher clinical remission and lower disease activity. AbbVie's other therapy Skyrizi, which gained FDA approval in 2019, has demonstrated a significant efficacy improvement vs. Humira in Plaque Psoriasis and can be taken as four annual doses compared to Humira's 25 annual dose schedule, offering patients improved convenience. Emerging adalimumab biosimilars will likely offer significant long-awaited cost savings for U.S. payers driven by the number of biosimilar entrants and high volume of adalimumab use nationally. In this potential race to the bottom, it will be interesting to see how price trends evolve in the U.S. and beyond. In this area of heavy industry competition, payers will be tasked to balance seeking to maximize long-awaited savings from biosimilar entrants with granting patients who still suffer from clinical burden access to more costly novel therapies that emerge in the coming years. Manufacturers will need to be prepared to first meet the needs of patients with ongoing clinical burden to establish new treatment standards that can eventually compete with long-standing incumbent options.
---
Authors: Grace Mock and Tanvi Ahuja
Sign up for the latest intelligence
By signing up, you are agreeing to our Privacy Policy.
By submitting this form, creating an account, and/or using our website (or using our Services) you agree to our Privacy Policy. Information provided by you is stored in our database and may be used for sending you additional information about Trinity (including Trinity's partners and affiliates) and our products and services. Such information may be transferred for this purpose to Trinity and affiliates in other countries. If you would like to opt out in the future, please email _compliance@trinitylifesciences.com.