Part I: Non-Traditional Players Attempting Entry Into the Healthcare Sector
Home

/

Intelligence

/

Blog

/

Part I: Non-Traditional Players Attempting Entry Into the Healthcare Sector
Published September 8, 2021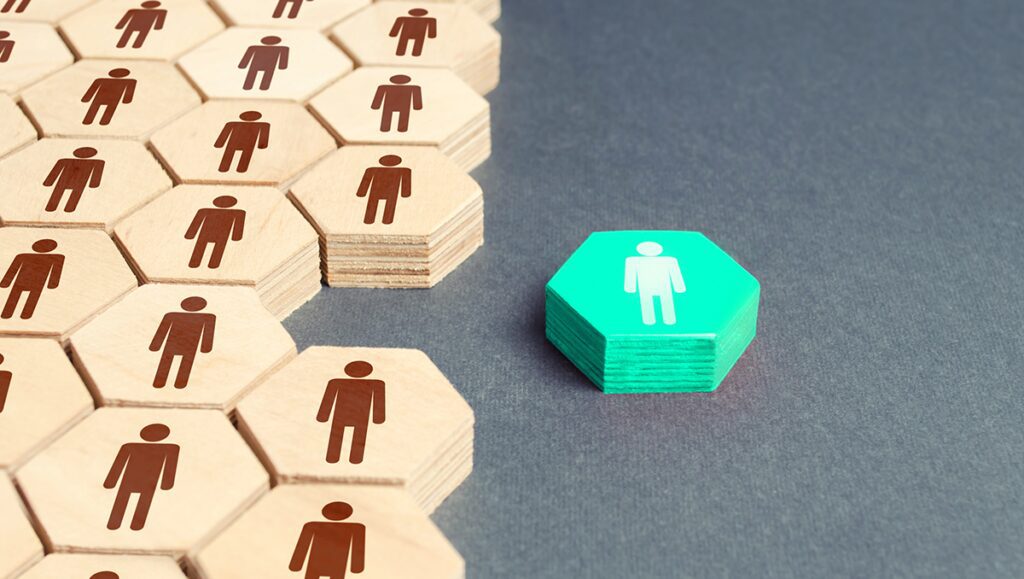 Executive Summary
The healthcare sector is becoming increasingly attractive, and despite the risk of an expensive failed venture, non-traditional players have and will likely continue to take their chances to enter the field
While the market has been profitable for some players such as Fujifilm and Nestlé, others have had a challenging time competing in this uniquely complex market (e.g., Kodak and Heaven)
---
Trinity's take: Non-traditional players that have been successful in tapping into the healthcare sector seem to follow a strategy of patience, acquirement of ample infrastructure and expertise, sufficient capital, and beneficial partnerships and acquisitions. On the other hand, the competitive space has been unfavorable to companies that have jumped in the market from a poor position and lacked the knowledge and capital needed to carefully craft a long-term strategy.
---
Can Non-Traditional Players Successfully Enter the Healthcare Space?
Global healthcare spending is expected to increase to over USD ten trillion by 2022, making the healthcare industry an appealing space for various corporations, including non-traditional players that are seeking to enter the space. While some non-traditional players have had steady, sustainable entries, and growth to-date based on their strategy, others have faced challenges due to insufficient organization and investment.
With the continued growth and global focus on healthcare during the COVID-19 pandemic, more non-traditional players are expected to enter the industry. It will therefore be important to understand the factors contributing to companies' successes or failures. In order to do so, the four case studies of Fujifilm, Nestlé, Kodak, and Haven were explored across three key metrics:
1. Timeline of investments
2. Rationale for investment
3. Diversity in investment choices
Fujifilm and Nestlé have been amongst the successful non-traditional players while Kodak and Heaven (a joint venture of Amazon, Berkshire Hathaway and JPMorgan) have currently fallen short in meeting their goals of breaking into the healthcare sector.
A Brief history of Two Non-Traditional Players: Fujifilm and Nestlé
Fujifilm's expansion from photography into the medical realm has been slow and steady. Fujifilm has made sustainable investments into healthcare and pharmaceuticals over the past three decades. Initially the company made small acquisitions in radiology and medical imaging, which have a greater overlap with the company's original products of cameras and film photography.
Since then, they have expanded further into drug development globally. Fujifilm acquired its first medical diagnostic imaging company in 1986 and finally entered the investigational drug development industry with an acquisition in 2006, which was shortly followed by the creation of Fujifilm Drug Discovery Research Laboratories in 2009 (See Figure 1A).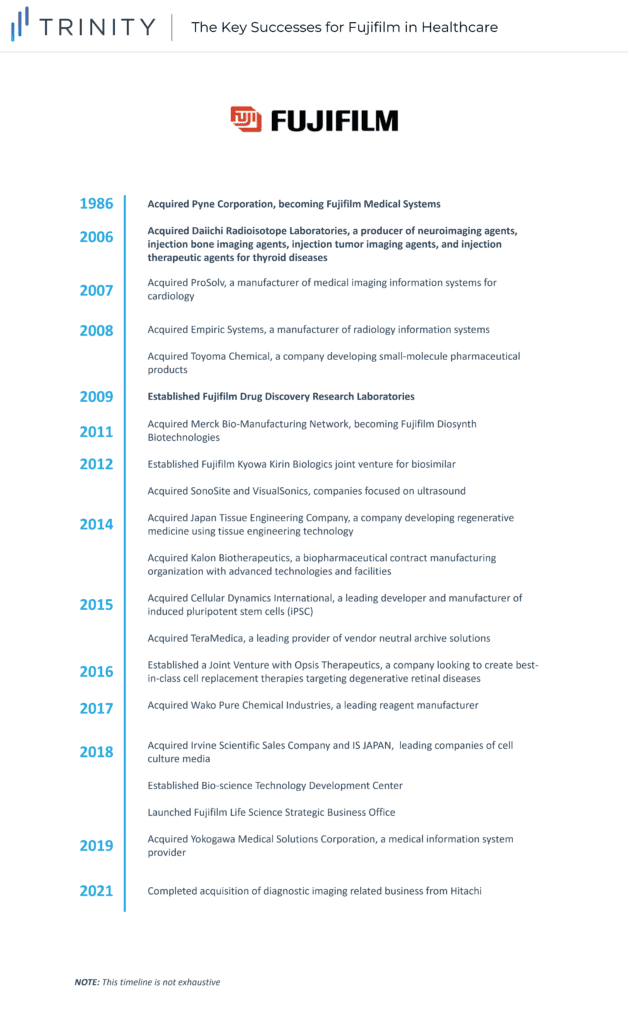 Over the years, the company experimented with various aspects of healthcare, from cosmetics and vitamins / supplements to prevention, diagnostics and treatment (See Figure 2A). Currently, Fujifilm has 13 investigational drugs in its pipeline in several spaces, including infectious diseases, oncology, and neurology, and one agent, AVIGAN (favipiravir), is already approved for the treatment of influenza in Japan. It is also expanding its infrastructure globally to contribute to manufacturing and drug development on a larger scale, both for its own products and those of subsidiaries.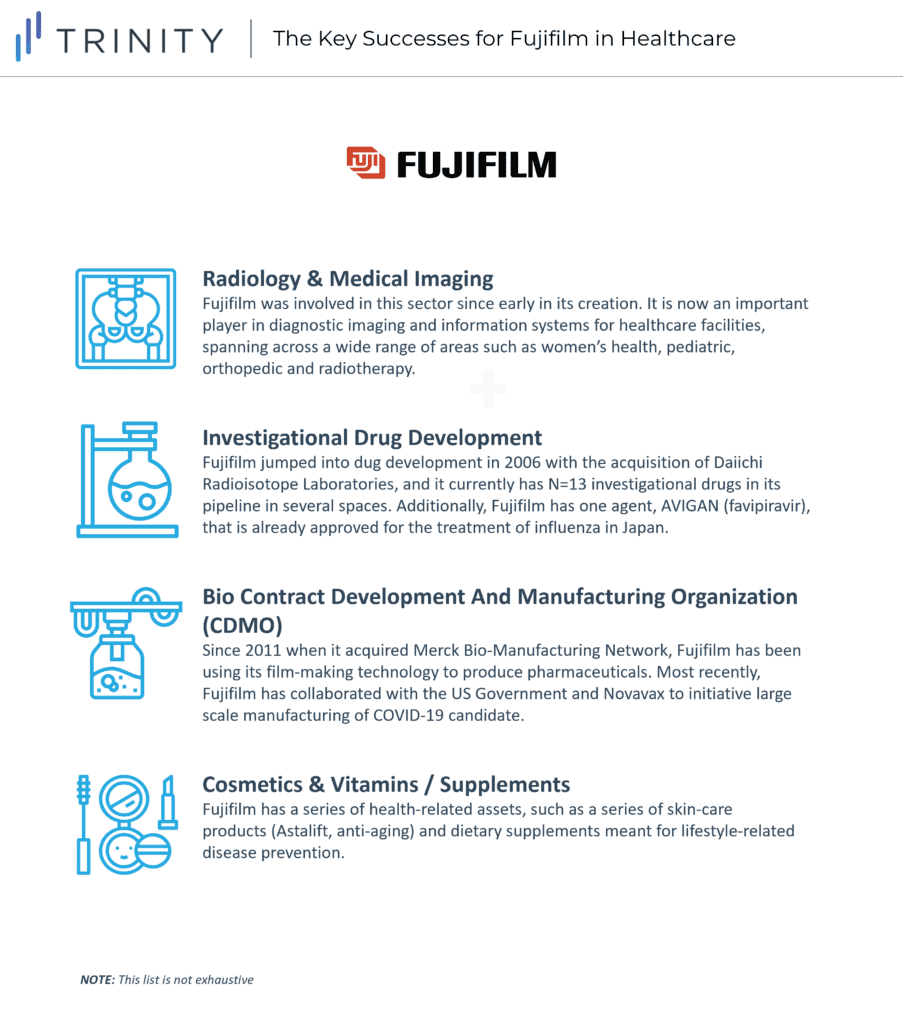 Key Successes for Fujifilm in Healthcare
Fujifilm's success is largely contributed to its existing infrastructure and decades of expertise in film production technologies including chemical synthesis and nanotechnology. Fujifilm has made smart and strategic investment choices by leveraging its resources, highlighting a growth strategy stemming from strong positioning in its original market as the rationale for expansion. Additionally, by first entering tangential sectors such as imaging and cosmetics and experimenting in the industry for many years, the company has acquired valuable experience allowing for an increase in the diversity of investments to include higher risk but more profitable opportunities.
While coming from a different background, Nestlé has also taken on a slow and steady approach to its entrance to the pharmaceutical industry. By first experimenting with tangential sectors to healthcare such as skin care, and nutrition / supplements, Nestlé was able to gain some experience prior to launching in pharmaceuticals (See Figure 2B).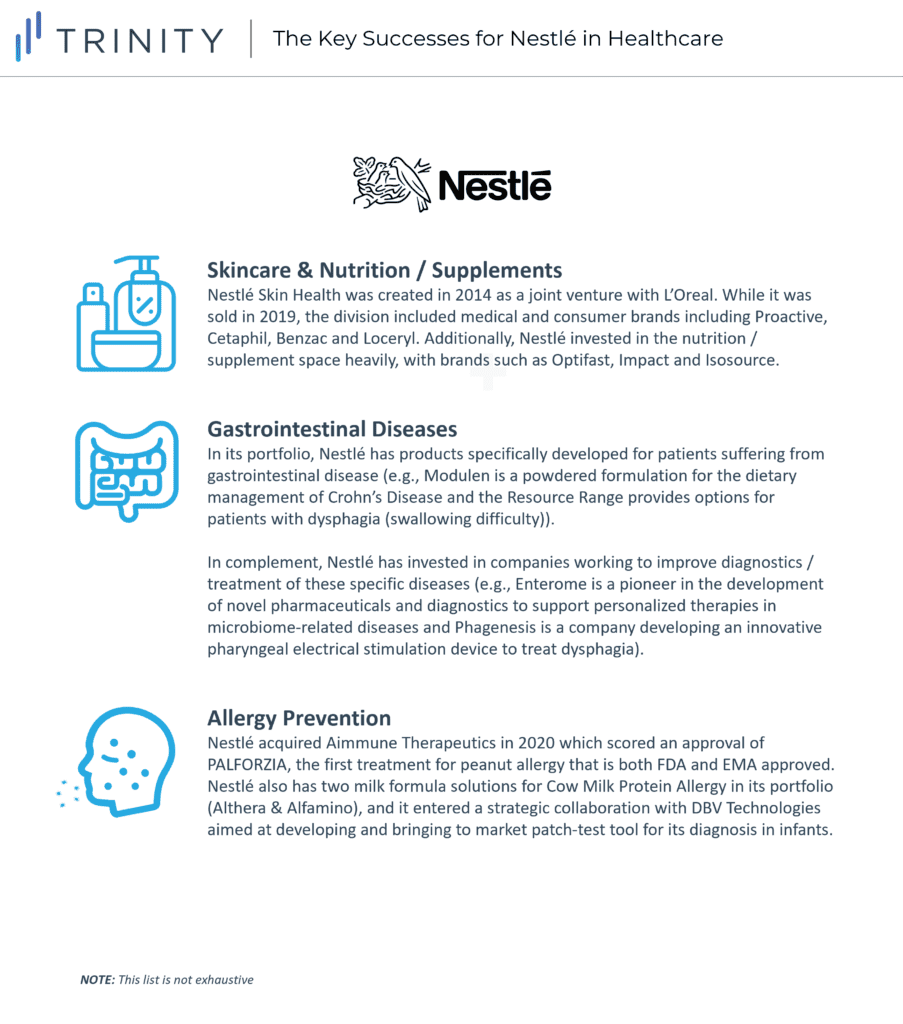 Since 1981, Nestlé has been investing and innovating with health, wellness, and nutrition in mind given the growing consumer demand for health-conscious products. This was initially seen through investments in foods that were aligned with additional health needs, such as low fat and low-calorie meals, as this was most similar to their current portfolio. Nestlé has since moved into medical nutrition and drug development spaces. Additionally, it founded its pharmaceutical wing, Nestlé Health Science, in 2011 and has since then attempted to expand rapidly to several disease spaces including gastroenterology, oncology, and allergy medications (See Figure 1B).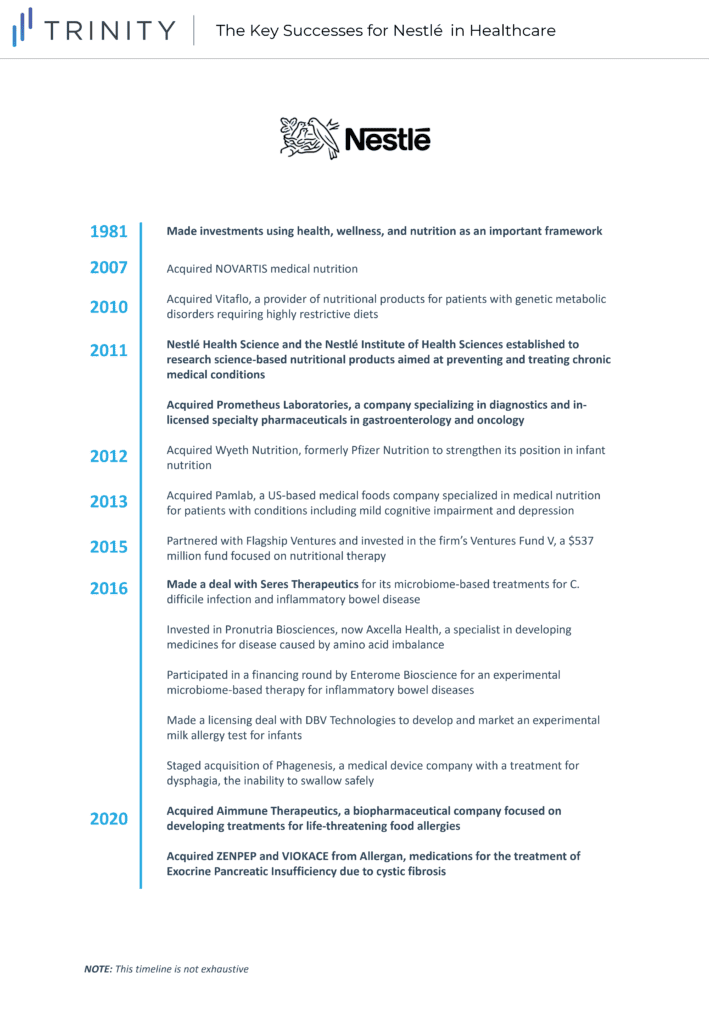 To begin its pharmaceutical market entry, Nestlé acquired Prometheus Laboratories, a company specializing in diagnostics and in-licensed specialty pharmaceuticals in gastroenterology and oncology, in 2011 which later on developed PROLEUKIN for the treatment of kidney and skin cancer.
The company then decided to make a strategic shift to focus on food, beverage, and nutritional health products which resulted in Nestlé selling Prometheus in 2019 and acquiring Aimmune Therapeutics in 2020. Aimmune Therapeutics scored an approval of PALFORZIA, the first treatment for peanut allergy that is both FDA and EMA approved, which aligned with Nestlé's business background and corporate strategy.
That same year, Nestlé also acquired ZENPEP and VIOKACE, medications for the treatment of Exocrine Pancreatic Insufficiency (EPI) due to cystic fibrosis, from Allergan and enjoyed ZENPEP's USD 237 million net sales in 2021. Additionally, Nestlé made moves in the Clostridium Difficile Infection (CDI) space by securing commercialization rights to SER-109 from Seres Therapeutics.
Key Successes for Nestlé in Healthcare
Nestlé's strategic partnerships and acquisitions of existing pharmaceutical companies as well as its ability to leverage the company's existing knowledge and position in the market have allowed it to transition into the pharmaceutical industry successfully despite of several challenges (e.g., cosmetics / dermatology, gastroenterology / oncology). Similar to Fujifilm, Nestlé has allotted sufficient time for market entry, made calculated decisions for investment choices, and made expansion decisions during the company's strong positioning.
A Brief History of Two Non-Traditional Players: Kodak and Haven
Unlike Fujifilm's gradual growth into the pharmaceutical industry following success in its original business, Kodak's attempted entrance in the market followed a series of failed business development attempts and a controversial governmental loan. Kodak has always been Fujifilm's rival in the photography and film industry and once enjoyed the same level of success. However, the company filed for bankruptcy in 2012 due to emerging competition from digital cameras.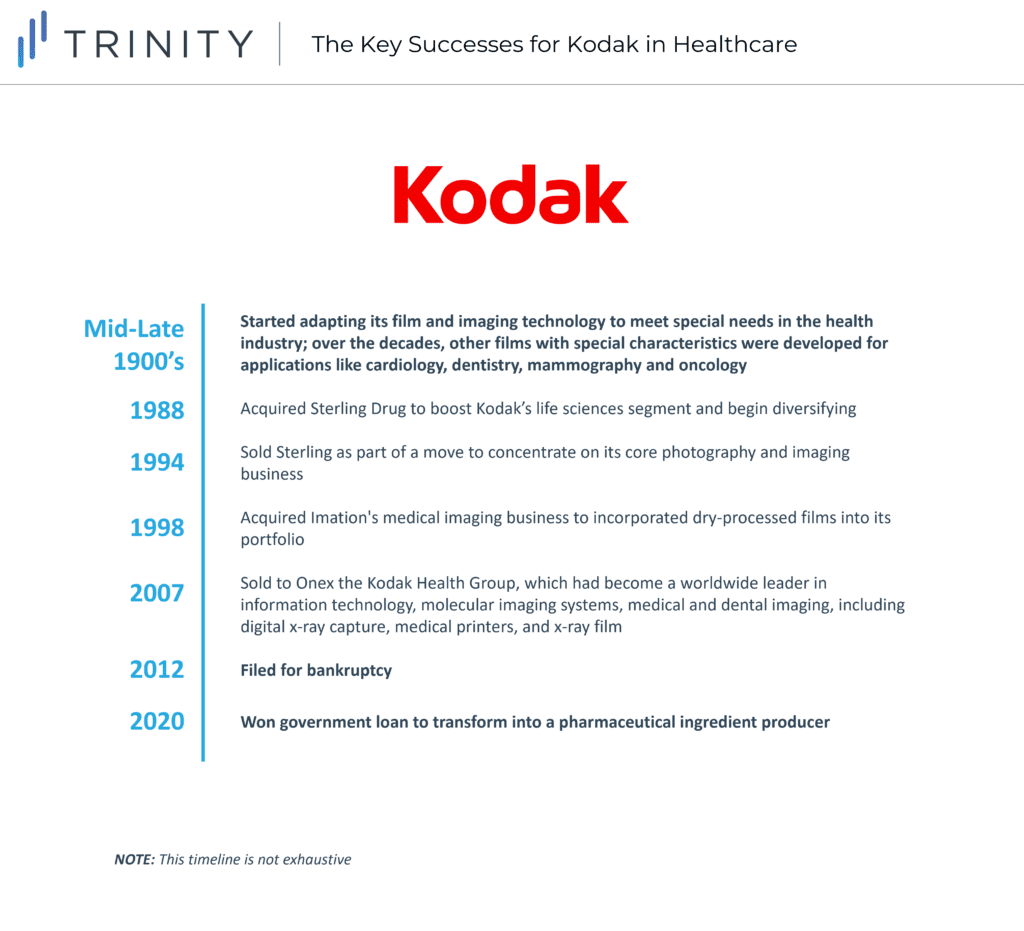 Kodak was then forced to re-enter the market as a much smaller company and diversify its business to see profits. Kodak's original step into the healthcare space was through medical imaging in the mid to late 1900's. Since then, the company has offloaded the majority of its acquisitions in healthcare. Despite the clear financial struggles, Kodak was however recently able to secure a loan from the Trump Administration in 2020 for USD 765 million to launch a new division called Kodak Pharmaceuticals to produce the active ingredients for generic medications in the US. This initiative has been delayed by controversy surrounding the grant, preventing them from making moves in this space (See Figures 1C & 2C).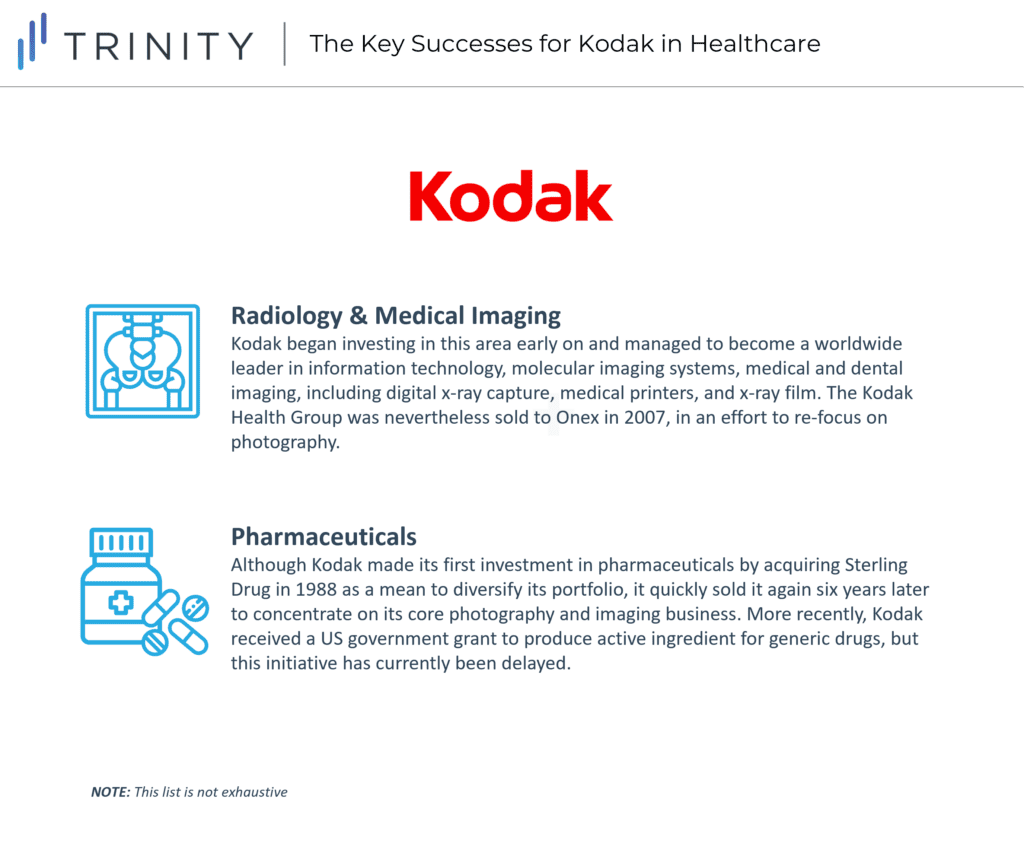 Key Challenges for Kodak in Healthcare
On top of existing skepticism regarding Kodak's ability to meet this goal, accusations of insider trading have targeted Kodak following the purchase of 47,000 shares of Kodak's stock by the company's CEO, Jim Continenza, leading to an investigation by the SEC and a hold on the loan. Kodak's sudden moves into foreign industries compiled with the lack of sufficient capital and time to build true expertise in each field has led to significant failures. Additionally, Kodak's disorganized and quick jumps around several competitive industries showcases the desperation behind expansion decisions which ultimately led to the company's failure in these industries.
Key Challenges for Haven in Healthcare
Haven, a joint venture of Amazon, Berkshire Hathaway and JPMorgan, was formed in 2018 with the goal of providing US employees and their families with simplified, high-quality, and transparent health care at a reasonable cost. Despite the three large and successful companies, the venture is now disbanding less than three years after launch due to insufficient market power, perverse incentives, poor timing due to the COVID-19 pandemic, and lack of alignment in each company's goals. The healthcare market was proven to be more complicated with intense competition and existing relationships between payers and providers that Haven could not breakthrough.
An Optimistic Outlook for Amazon as a Non-Traditional Player
While the Haven venture was a failure, Amazon's long-term growth strategy has led it to expand into healthcare. Amazon's major investments in the sector have come recently; however, they have expanded in ways that currently align with their business and expertise. They began by modifying their current technology to be used in the healthcare settings and used this as a starting point to enter digital health, pharmaceutical distribution, and primary care (See Figure 2D).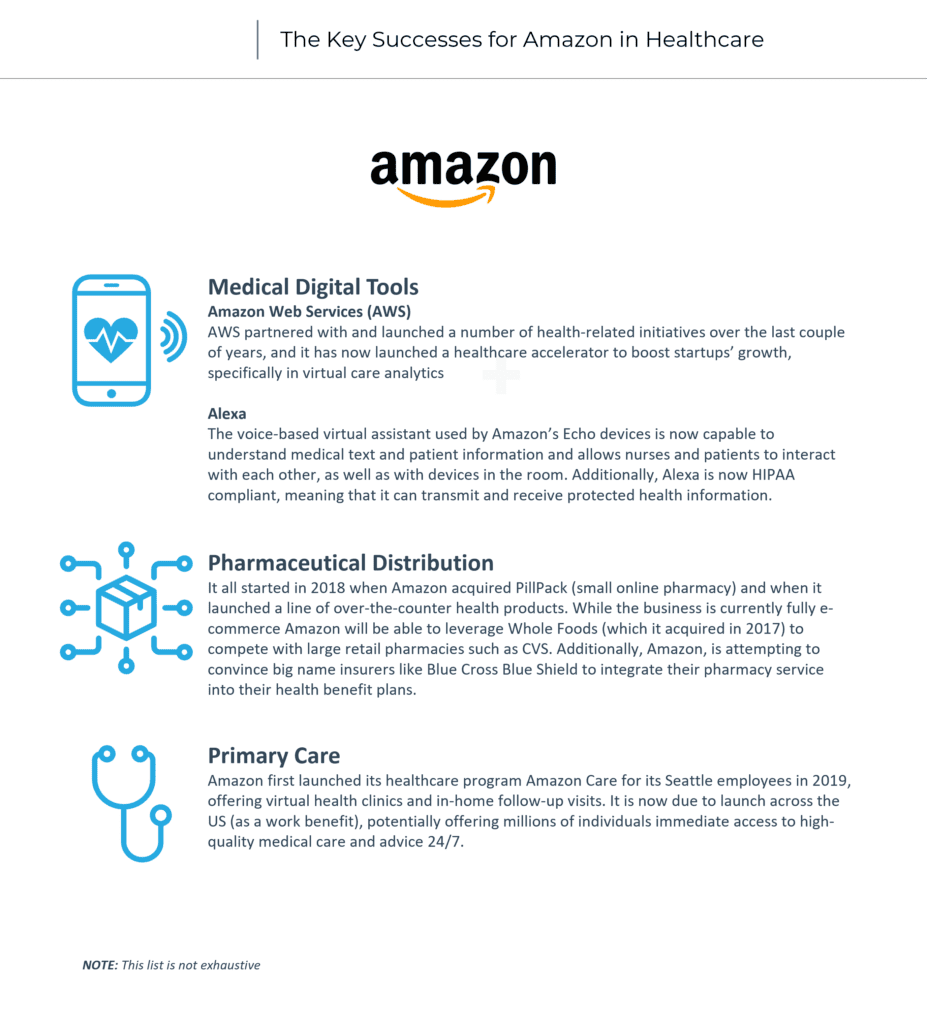 Given the company's strength and resources in packaging and fast shipping, Amazon was able to successfully acquire PillPack, an online pharmacy. Amazon has also launched a line of over-the-counter health product, and while the products are technically manufactured by a private-label company Perrigo, it puts Amazon in a good position to challenge the pharmacy retail chain.
Additionally, the company has secured several partnerships for its Amazon Web Services (AWS) with several health technology companies such as Cerner and Pittsburgh Health Data Alliance. Furthermore, Amazon is now looking to tap into the primary care sector with Amazon Care, offering access 24/7 to high-quality medical care and advice (See Figure 1D). While the Heaven venture was a failure, Amazon is currently heading in the right direction to become a successful player in the healthcare sector.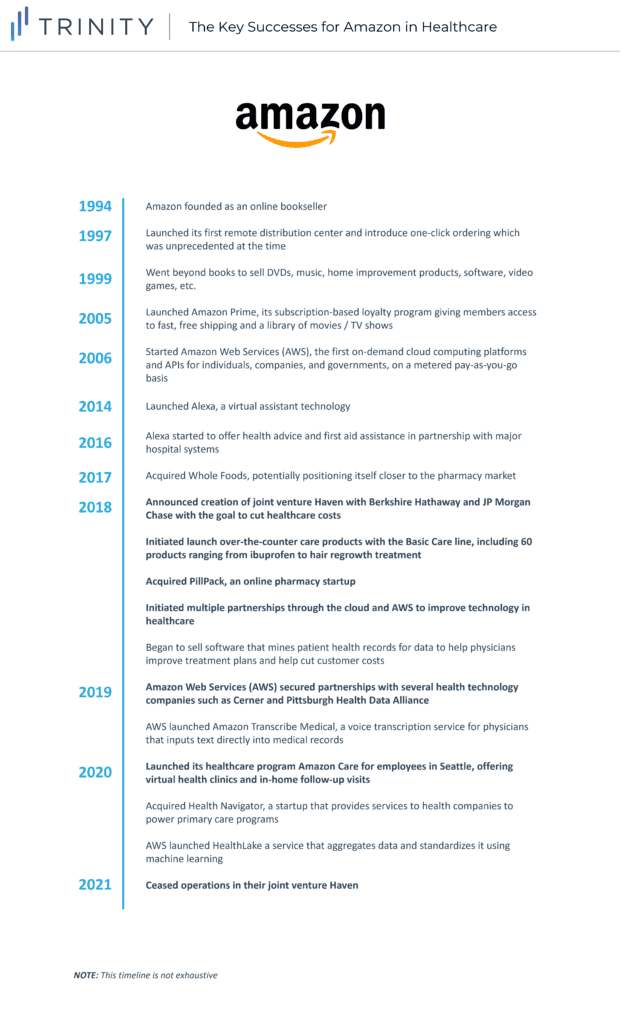 ---
Written by Manon Ricard, Thomas Leichner, Ava Taghizadeh, and Eileen Nikles
Sign up for the latest intelligence
By signing up, you are agreeing to our Privacy Policy.
By submitting this form, creating an account, and/or using our website (or using our Services) you agree to our Privacy Policy. Information provided by you is stored in our database and may be used for sending you additional information about Trinity (including Trinity's partners and affiliates) and our products and services. Such information may be transferred for this purpose to Trinity and affiliates in other countries. If you would like to opt out in the future, please email _compliance@trinitylifesciences.com.