Products:
Trinity EvidenceFirst™
Navigating through the complexities of RWE analysis
Life sciences companies strive to make real-world evidence (RWE) a routine part of their decision-making process, but face challenges optimizing their use of real-world data (RWD).
Trinity's EvidenceFirst offerings deliver meaningful RWE solutions by providing an experienced partner to work alongside life sciences leaders, with the context to flexibly implement built-for-purpose insights – and to draw on the appropriate data assets, from each company's existing array of data resources to Trinity's unique in-house data portfolio.
Trinity EvidenceFirst generates consistent, actionable real-world insights that ultimately allow life sciences organizations to answer critical questions, including:
Who are the patients?
Where do you find them?
How are they treated?
What are their outcomes?
With EvidenceFirst, life sciences companies can back commercial decision-making with real-world data (RWD) under circumstances and timeframes that previously were not realistic.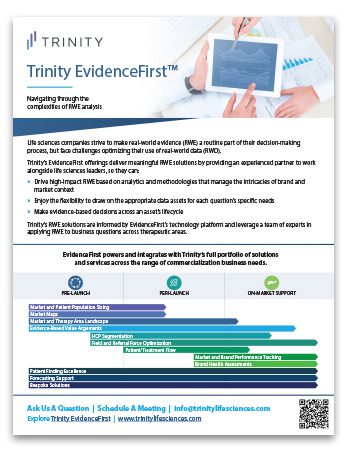 EvidenceFirst Brochure
Latest Trinity EvidenceFirstTM Intelligence
If you have any questions, we're here to answer them.
We look forward to helping identify solutions for you.